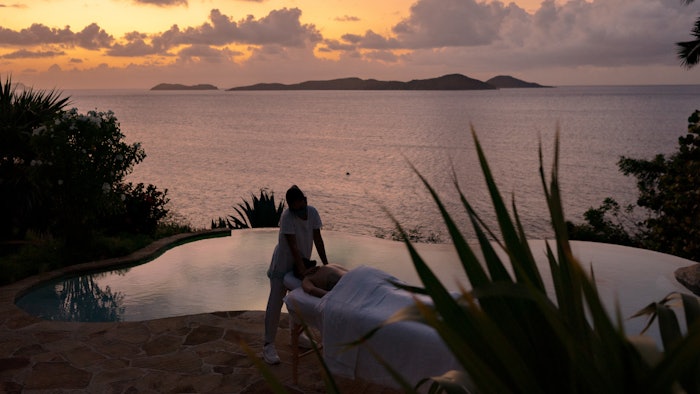 Courtesy of Sense, A Rosewood Spa at Rosewood Little Dix Bay/Clemo Creative
With warm weather in full effect, spas around the world are coming up with unique nighttime offerings. Here are three properties with creative stargazing treatments that promote wellness.
1. Spa Astronomy Experience
Rosewood Little Dix Bay, an island retreat on Virgin Gorda, has introduced the Spa Astronomy Experience. The Spa Astronomy Experience includes a 60-minute signature massage, a brief guided meditation, time to enjoy the hot plunge pool in the Couples Suite, self-guided stargazing and a bottle of sparkling wine.
2. Evenings at Glen Ivy
Glen Ivy Hot Springs in Southern California is offering Evenings at Glen Ivy, a tropical oasis under the stars focused on inner peace and wellness. Evenings at Glen Ivy feature live outdoor entertainment, sound bath meditation, nourishing cuisine and other activities to help guests achieve profound relaxation of mind and body. Guests can also explore the spa's peaceful grounds, soak in healing waters and nourish their skin with a trip to Club Mud. Evenings at Glen Ivy run Friday-Sunday through September 26, 2021.
3. The Buck Moon Heals Experience
Cuyama Buckhorn, a mid-century-western roadside resort in New Cuyama, has created a curated weekend to experience the celestial phenomenon of July's full Buck Moon. The program features a welcome drink with Sideyard Shrubs, a moon water ceremony, a tea blending class led by Reiki Master Marguerite of Resonating Earth, a sound bath ceremony, a guided meditation led by sound healer and breathwork facilitator Allison Bagg, and a farm-to-table dinner by executive chef Daniel Horn. This year's weekend-long experience includes a two-night stay from July 23-25, 2021.