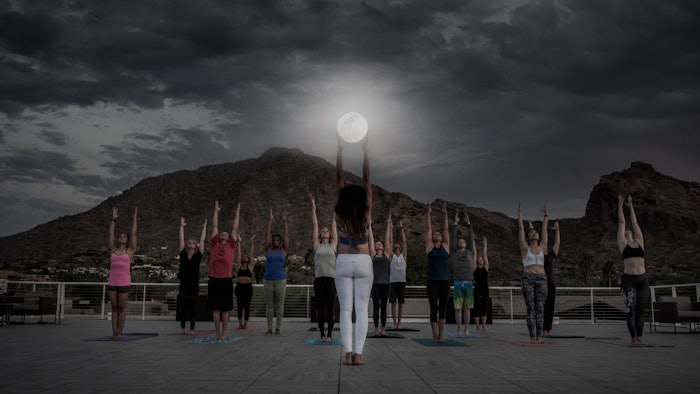 Courtesy of Mountain Shadows Resort Scottsdale
Grab some wellness programming inspiration from these four destinations to ensure that your guests are getting the best and most relaxing treatments.
1. The Ranch Malibu, Malibu, CA
A recently launched program, The Ranch 9.0 is a nine-day experience that adds two days to The Ranch's signature weeklong program, allowing guests to jumpstart their stay and maximize their results. Guests can take advantage of the following:
Six hours of low impact exercise, including

daily hikes, afternoon fitness classes and restorative yoga

Daily massage

A

1,400 calorie-a-day organic, plant-based diet

Diagnostic testing

Additional modalities including pre-and post-program cholesterol testing and body fat analysis; sound baths; acupuncture; chiropractic treatments; cryotherapy; and IV therapy
This property's Endless Wellbeing program lets guests customize the program for their specific wellness, fitness, dietary and mental health goals and needs. Endless Wellbeing includes:
A Wellness Concierge, who will customize offerings for each guest
Customized in-room aromatherapy
An in-room fitness kit
Personalized menu at all F&B outlets
Tailored activities and classes such as yoga, meditation, aeroyoga and healthy cooking classes
A consultation with the property's natural medicine guru
Eden Roc has also implemented a full property wellness program available to all guests, featuring:
Schedule-free private classes like yoga, meditation, personal training, aeroyoga, Pilates, HIIT training
Healthy cooking classes
Consultations with the property's natural medicine guru, with sessions including hypnosis, reiki, healthy eating tips and natural medicine education
Family programming
Personal/group retreats
As part of the destination's National Fitness Month celebrations, Mountain Shadows is offering Zodiac Yoga & Sound Healing to guests. The restorative, one-hour yoga experience incorporates insight into the guest's horoscope for the perfect poses based on the Taurus sign, led by renowned yoga instructor Sarah Pyper. Afterward, Cary Ballou of Shanti Sound will guide a mini sound healing session featuring Tibetan singing bowls and tuning forks that create vibrations to relax body and mind. Finally, guests head over to The Living Room for a cocktail or glass of wine.
The newly opened spa is now offering curated face, body and wellness treatments specifically for men, such as:
Deep pore cleansing to combat aging and health-related problems, as well as prep the skin for more potent antiaging treatments
A 30-minute sauna session followed by a lymphatic drainage treatment, which helps relieve soreness caused by lactic acid buildup after a workout
Microneedling to treat various scars, wrinkles and large pores, which is ideal for men with textured skin and serves as a great "pick me up"
Radiofrequency for tightening the skin, making it appear more toned and contoured