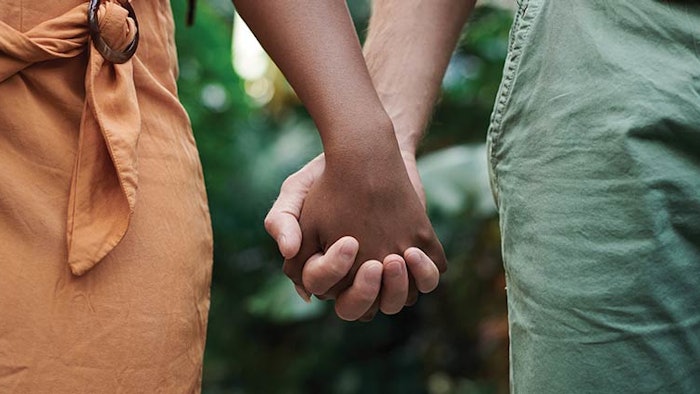 Sex, more specifically orgasm, through self-pleasure or partnered sex, stimulates skin firmness, elasticity and radiance. Come again? True, studies have shown that having regular orgasms, four or more weekly, "improved texture and tone, as well as diminished sagging, fine lines and wrinkles."1 Others have found that the appearance of skin aging "can be significantly delayed" by increased estrogen levels, which is known to happen during sexual arousal.2,3
Using this information, along with a list of other known links between orgasm and skin health, recommendations can be made that incorporate sexual activity with wellness and skin health for all clients, although this information is especially well suited to women.
Sexual wellness is just one way to holistically address skin health, and believe it or not, there is a place for it in the spa industry. Namely, this includes suggestions for appropriate spa products and the best essential oil formulas for sexual wellness as it relates to the skin.
Sex as Self-Care
The growing sexual wellness category has taken intimate products like vibrators, lubricants and body oils from taboo to health-oriented self-care. Sexuality has made great progress over the past century, overcoming social restrictions and negative associations. The progression, especially since the sexual revolution of the 1960s, has been a slow opening to a healthy relationship with human sexuality.
By attaching the label of wellness and self-care, sexuality takes a rightful place in health and beauty-related practices. Supporting this positive, wellness-oriented attitude toward sexuality is data accumulated over the past three decades showing direct correlation between pleasurable experiences and good health.4
The physical, emotional and psychological health benefits derived from orgasm are similar to the requirements for healthy skin based on a holistic model, otherwise known as beauty from the inside out. A short list of the good-for-the-skin health benefits that can result from orgasm include:
Better heart health
Reduced inflammation
Modulating immune function
Improved sleep quality
More satisfaction with mental health
There are important functions and links involved in sexual activity that relate to the communication between the skin, the nervous systems, hormones and the immune system, also called the neuro-immuno-endo-cutaneous network. When someone experiences an orgasm, the body released endorphins and serotonin, which promote good mood and relaxation.
Dopamine and oxytocin are two more compounds with important sexual wellness functions, as they are released to create the pleasurable sensations during orgasm. These two transmitters also play a role in skin health.
The big pleasure reward at orgasm is primarily influenced by oxytocin. Oxytocin has several functions in the human body. It's known to cause uplifting emotions like happiness, love and affection. Oxytocin is also expressed in keratinocytes and the skin's dermal fibroblasts. In this case, it is a mediator of many tissue-specific actions such as "proliferation, inflammation and oxidative stress responses."5
Continue reading our digital magazine to learn more about the connection between skin health and sexual wellness...
Jimm Harrison (www.jimmharrison.com) is a master alchemical essential oil and botanical skin care formulator, consultant and educator, with extensive experience and knowledge in the science, art and metaphysical function of essential oils. Jimm has developed private label product formulation, essential oil fragrance branding, and educational content for retail and spas internationally.
References
https://www.gcimagazine.com/marketstrends/segments/bathbody/Sexual-Wellness-Brands-Get-in-the-Beauty-Game-571761541.html
Stevenson S, Thornton J. Effect of estrogens on skin aging and the potential role of SERMs. Clin Interv Aging. 2007;2(3):283-297.
Van Anders SM, Brotto L, Farrell J, Yule M. Associations among physiological and subjective sexual response, sexual desire, and salivary steroid hormones in healthy premenopausal women. J Sex Med. 2009;6(3):739-751.
4. Resnick, Stella. "Sexual Pleasure: The Next Frontier in the Study of Sexuality." SIECUS Report, vol. 30, no. 4, Sex Information and Education Council of the U.S., Apr. 2002, pp. 6–11.
5. Deing, Verena, et al. "A New Role of the Oxytocin System in Human Skin Stress Responses and Implications for Atopic Dermatitis." Brain Behavior and Immunity, vol. 29, Elsevier Inc, Feb. 2013, pp. S11–S11.