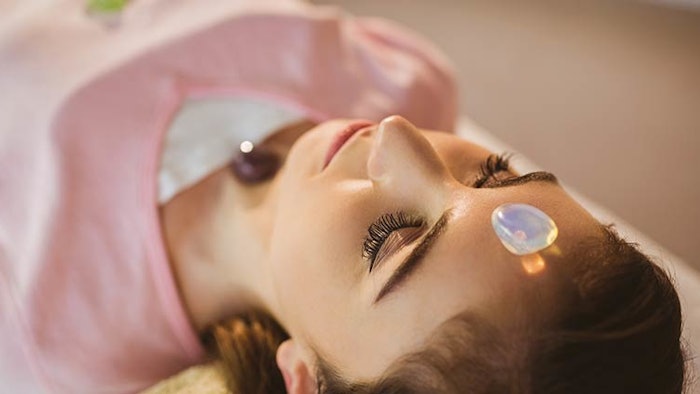 The esthetic industry is always evolving and becoming ever more inclusive of integrative self-care services. Clients are increasingly concerned with wellness as society moves faster, with more demands. The effects of this are marked by stress, exhaustion and feeling overwhelmed. The spa, therefore, is a sanctuary from the hustle and bustle of everyday life, with practitioners at the helm of vitality, relaxation and restoration.
The Oxford dictionary defines the term holistic as: "Treating the whole person rather than just the symptoms, or effects, of a disease." Incorporating wellness services as part of the integrative, holistic facial experience is an exceptional way to flow within these new expectations of esthetics. Skin care specialists are strategically placed to not only care for the skin, but to consider the whole self when performing a service, incorporating wellness into the treatment room via therapeutic modalities such as gemstone mats, guided meditation, acupressure, reiki and crystal therapy.
Now, the beginning of a holistic facial starts out much like any other—with paperwork. In any esthetic setting, it's important to collect a full patient health history and to be aware of any underlying conditions or medications that may affect both the skin care treatments and the holistic modalities chosen for each client. Once you've done that, you're cleared to create the perfect holistic facial offering using these wellness practices, which will allow you to address the whole self in addition to leaving your client with glowing skin.
Health Mats
At The Eclipse Spa in Westminster, Maryland, we start the holistic facial protocol with the client relaxing on a hot stone, multi-therapy mat positioned under soft sheets. Although there are many types of therapy mats to choose from, our spa opts for those that include warmed gemstones combined with pulsed electromagnetic field (PEMF), far infrared and negative ion therapies for an incredible experience that's delivered throughout the facial.
Such health mats contain untreated natural stones, such as amethyst, jade and tourmaline, which are delicately heated to relax and rejuvenate the body. The stones used in any type of crystal therapy are crucial, as each one has different energetic properties. For example, amethyst has been used for centuries in both healing and deep meditation rituals, as it's useful for connecting with a higher consciousness. The stone is also said to be protective by blocking negative energy, and acts as a powerful conductor.
Likewise, jade is an extremely well known and beloved stone that, when heated, will emit far infrared rays that promote stress reduction and the alleviation of tension. Far infrared rays are vital to human life and the technology is FDA approved in certain formats for the temporary relief of minor joint stiffness and muscle pain. Another beautiful stone often used with far infrared technology due to its powerful electrical charge is tourmaline, which releases negative ions when affected by heat. Prevalent in nature, negative ions contribute to positivity, rebalance the chakras and support the cellular restoration of the body. These stones are often incorporated into crystal reiki, as well.
In addition to heated gemstones and far infrared rays, health mats can include PEMF, a complimentary therapy that produces a mildly magnetic electrical current used to promote increased blood flow, healing and cell renewal throughout the body. PEMF therapy can help reduce inflammation and is FDA approved in several post-surgical healing applications. Many therapy mats utilize a PEMF frequency of 7.8 Hz, mimicking the earth's natural frequency. PEMF therapy is also available to spa practitioners as separate treatment devices, with each mat or device having its own operating manual concerning specific usage, treatments and contraindications.
Continue Reading our Digital Magazine for three other ways you can incorporate wellness into your facial services...
Kristen N.M. Johnson is an award-winning registered nurse, licensed esthetician and co-owner of The Eclipse Spa in Westminster, Maryland. With more than 10 years of experience in the luxury spa industry, she is passionate about creating a unique and indulgent experience for each guest, specializing in the development, education and implementation of innovative treatment protocols. Johnson is an Usui reiki master and teacher, and she holds advanced training and certifications in holistic and integrative health, aromatherapy, acupressure, auriculotherapy, facial cupping, facial reflexology, crystal therapy, chakra healing and much more.