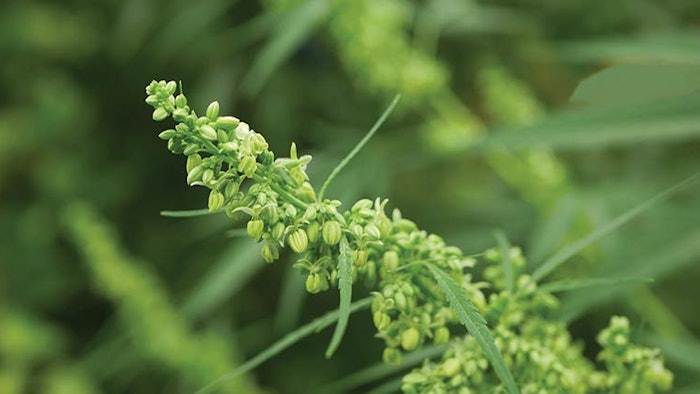 You are likely familiar with cannabidiol (CBD), as it is now a popular body and skin care ingredient. With its anti-inflammatory, pain-relieving and body-balancing properties, CBD has helped the spa industry immensely as consumers integrate it into their daily lives. But CBD isn't the only cannabinoid star in the treatment room.
Cannabigerol (CBG) is making its debut in the spa world. This sister cannabinoid to CBD is one of more than 100 known cannabinoids within the hemp plant. These cannabinoids continue to be researched, studied and tested for topical benefits. As spa professionals, we can then continue to share this knowledge with our guests who absorb the healing plant medicine in and out of our treatment rooms. CBG shares commonalities with CBD, but they don't compete for attention.
Internal Healing
Every cannabinoid in the hemp plant has its own set of perks and medicinal properties, focuses and uses. Cannabinoids that are extracted to become an isolate are considered "pure," meaning an additional process is needed during extraction to isolate the cannabinoid by itself. Because we can isolate CBG in this way, we now are experiencing the shining benefits of this minor cannabinoid.
CBG can be taken internally for an enticing list of reasons, including as an antibiotic and for pain relief, as well as for mood lifting and stabilization purposes. It is becoming increasingly popular because it can be used alone or as a complement to CBD to promote physical and emotional healing.
In fact, an internal product containing CBG as part of a full array of cannabinoids creates an "entourage effect," meaning that they all work together to create the most medicinal healing experience. The most common full spectrum products include CBG, CBD, less than 0.03% THC, CBN and CBC.
Continue Reading our Digital Magazine to learn more about cannabigerol and its benefits for the spa industry...
Liz Aigner, LMT, LE, CYT, director of education for Color Up, is a licensed massage therapist and esthetician who specializes in traditional Chinese fire cupping, sound healing and professional CBD education. Her private practice, GLOW Massage Denver, is located within the Color Up Wellness Center in Denver.