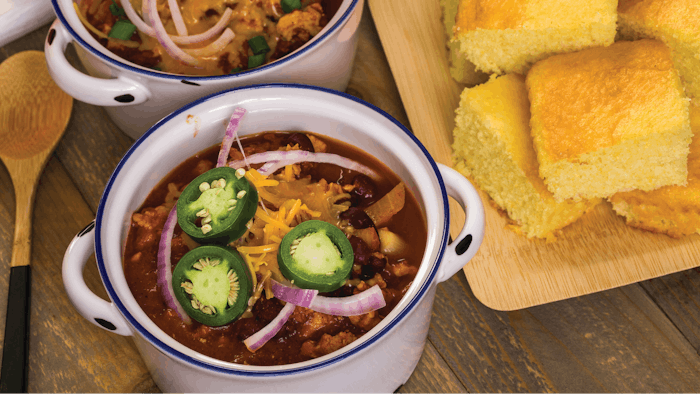 Long-term immune support is one of the top nutrition trends this year, with consumers and professionals alike seeking pretty much anything that can help keep them from getting sick. Although vitamins, supplements and citrus are all great options for boosting immunity, nothing compares to good-old healthy eating. "A balanced, healthy diet helps keep your mind and body strong all year long," says Lisa Moskovitz, RD, CDN, CEO of NY Nutrition Group, with multiple locations in New York.
With that in mind, she put together this immunity-elevating Spicy Turkey Chili recipe, which also happens to be the complete package in terms of a balanced, satisfying meal. "With a mixture of protein-rich turkey, fiber-filled beans and veggies, and anti-inflammatory seasonings, this dish offers all of your immune-supporting essentials," explains Moskovitz. "Research also shows that garlic has antibacterial and antifungal properties to help the body resist and protect against viral infections. Plus, jalapeños are a great source of antioxidant vitamin C, which is important for immune function."
This well-rounded, whole health supporting dish is definitely a smart addition to any wellness pro's diet—and with that extra immune system boost in there, you'll be ready to take on the day, wherever it may lead!
Continue Reading our Digital Magazine for a Spicy Turkey Chili recipe...