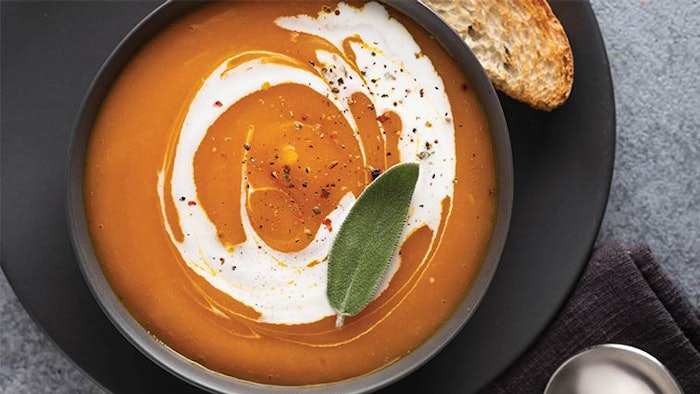 Chillier temperatures always bring out the desire for warm comfort food, ideally with rich flavors, creamy textures and lots of sugar and fat. Luckily, there are ways to indulge without breaking the calorie bank. Take this Butternut Squash Soup from Miraval Arizona in Tucson, which combines seasonal flavors with healthy substitutions that satisfy body and spirit.
"Miraval's take on butternut squash soup incorporates healthy, mindful ingredients while retaining all the comforting aromas and flavors that evoke the fall season," says Miraval executive chef Warren Weekes. "We infuse the soup with seasonal staples like cinnamon and nutmeg to give it another autumnal kick that makes it perfect for warming the body and soul. Rice milk provides a healthier (and vegan!) alternative to make this soup wonderfully creamy."
In addition, butternut squash is low in calories, fat free and loaded with vitamins A and C, plus some fiber and protein to boot. That makes this rich vegan recipe nourishing both inside and out—the perfect "indulgence" for health-conscious professionals this November.
Continue reading for a Butternut Squash Soup recipe in our Digital Magazine...