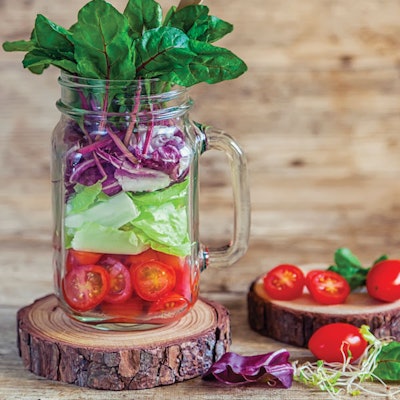 Many spa pros often feel as though there aren't enough hours in the day—not to mention time to pack a nutritious lunch. For those who need a grab-and-go bite, this super quick Salad in a Jar from
The Ultimate Age Defying Plan: The Plant-Based Way to Stay Mentally Sharp and Physically Fit
(Da Capo Lifelong Books, 2019) by Mark Reinfeld and Ashley Boudet, ND, with Michael Klaper, MD, is a smart solution. The colorful concoction is chock full of greens and veggies, including cucumbers, carrots and tomatoes brimming with antioxidant lycopene and vitamins A and C. "The more color, the more benefits," note Reinfeld and Boudet. "A balanced salad should contain loads of fiber, vitamins, minerals, amino acids and healthy fats, all of which keep the body strong and help maintain a youthful glow—from the inside out!" Pair the salad with your choice of tasty dressing and you're good to go.
Salad in a Jar Recipe
Yields 2 servings
2 cups arugula
1 cup halved cherry tomatoes
1/4 cup peeled, spiralized carrot
1/4 cup seeded, julienned yellow bell pepper
1/4 cup shrudded purple cabbage
2 tbsp. sunflower or pumpkin seeds
RELATED: Taste – Berry-Blue Protein Shake
Place arugula at the bottom of a 1-quart mason jar. Top with tomato, cucumber, carrot, bell pepper, purple cabbage and sunflower seeds.
Turmeric Tahini Dressing Recipe
Yields 8 servings
1 tbsp. miso paste
¾ cup water
½ cup tahini
1 tsp. Dijon or stone-ground mustard
1 tbsp. nutritional yeast
1½ tsp. wheat-free tamari or other soy sauce
1 tbsp. freshly squeezed lemon juice
½ tsp. ground turmeric
2 tbsp. thinly sliced green onion (optional)
1 clove garlic, pressed or minced (optional)
Sea salt and ground black pepper
RELATED: Pink Moon Milk Tonic Recipe
Place miso paste in a bowl and add water slowly, whisking well. Combine remaining ingredients and mix well.
*Recipe excerpted from The Ultimate Age-Defying Plan: The Plant-Based Way to Stay Mentally Sharp and Physically Fit by Mark Reinfeld and Ashley Boudet, ND, with Michael Klaper, MD. Copyright © 2019. Available from Da Capo Lifelong Books, an imprint of Perseus Books, LLC, a subsidiary of Hachette Book Group, Inc.
–by Jasmine Brown
This story first appeared in the March issue of Dayspa magazine. To receive the magazine, click here to subscribe.