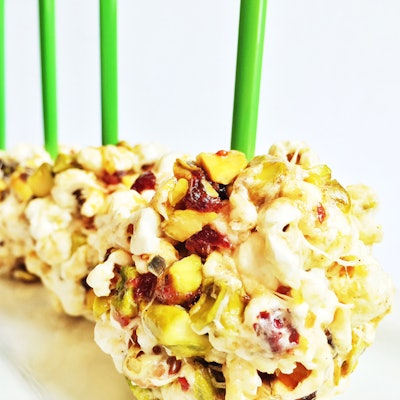 Newsflash: You don't have to fully commit to going vegan in one go—or even at all. Take it from West Hollywood, CA-based Heather Bell and Jenny Engel, owners-operators of Spork Foods.
The enthusiastic sisters host wildly popular vegan cooking classes, but they acknowledge that, for some people, baby steps are the answer. As a result, their new cookbook, Vegan 101 (Sonoma Press, 2016), is billed as "a go-to crash course for preparing plant-focused meals that get an A+ in nutrition and taste," and is aimed broadly at "people who want to make plant-based meals part of their regular rotations."
The colorful collection of 100 recipes and lifestyle advice is split into five sections, from breakfasts to desserts. Falling within the latter are these gluten-free Pistachio-Cranberry Popcorn Balls.
They're packed with nutrients, as Bell explains: "Pistachios are high in potassium, which may help maintain a healthy blood pressure. Naturally detoxifying cranberries protect the body from bacteria that can cause digestive issues and yeast overgrowth." She suggests other ways to showcase the raw ingredients: "Pistachios are fun to serve in their shells, and fresh cranberries look beautiful floating in a large carafe."
So whether you're a spa owner searching for simple, healthy snacks to offer your guests during the holidays or a veteran vegan seeking to switch up your seasonal treats, here's your answer!
Pistachio-Cranberry Popcorn Balls
Yield: 10 balls
1/4 cup vegan butter
2 cups vegan marshmallows, roughly chopped
1/4 tsp. ground cinnamon
1/8 tsp. sea salt
5 cups popped popcorn
1 tsp. vanilla extract
1/3 cup shelled pistachios, coarsely chopped
1/3 cup dried cranberries, coarsely chopped
In a 4-to-6-quart heavy saucepan, combine butter, marshmallows, cinnamon and salt. Cook for 3 to 4 minutes. Turn off heat and add popcorn, vanilla extract, pistachios and cranberries. Stir well, mixing until uniform. Use a 1/2-cup measuring cup to portion out the mixture into 10 balls and place on a baking sheet lined with parchment or wax paper. Let cool completely and serve.
–By Lesley McCave