This chilled eggnog serves as an alternative to the traditional holiday drink—sans the exorbitant calorie count.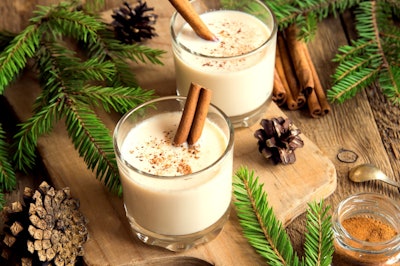 Veronica Bosgraaf—creator of Pure, a line of organic fruit and nut bars and snacks—isn't a big fan of eggs, but hated the idea of being left out of festive eggnog imbibing come the holiday season. So she whipped up an eggless, dairy-free eggnog that hits all the right flavor and texture notes—and can be spiced up even more with a splash of rum. The vegan alternative, which she recommends serving cold, is just one of 120 recipes included in her new cookbook, Pure Food: Eat Clean with Seasonal, Plant-Based Recipes (Clarkson Potter/Publishers, 2015).
Each serving contains a seasonally splurge-worthy but relatively moderate 150 calories and 2.5 grams of total fat, and the drink is a cinch to make. In lieu of dairy, the nog is filled with almonds, which contain "good" fats, fiber, plant protein and vitamin E. Cinnamon and nutmeg add a touch of sweetness and piquancy, but pack in antioxidants.
Bosgraaf prepares this recipe with her own homemade almond milk; if you're using store-bought, she recommends "turning up the flavor" by adding a few tablespoons of coconut oil and a dash of maple syrup. "This healthful version of a decadent treat is a great way to show your clients how a few small adjustments to a recipe can make a once-indulgent drink taste great and make them feel even better!" she says.
Vegan "Eggnog"
Yield: Four servings
2 cups almond milk, homemade or store-bought
¼ cup spiced rum (optional)
½ teaspoon ground cinnamon
½ teaspoon grated nutmeg
¼ teaspoon vanilla extract
⅛ teaspoon sea salt
½-1 cup ice
¼ cup spiced rum (optional)
In a blender, combine all ingredients. Blend on low speed until smooth; serve immediately.
Veronica's Homemade Almond Milk
Yield: Four servings
1 cup almonds
2 cups filtered water
1 tablespoon coconut oil
1 tablespoon maple syrup
¼ teaspoon vanilla
⅛ teaspoon sea salt
Soak almonds overnight, drain, and rinse. Add all ingredients to a blender, mix for 2-3 minutes on high. Strain into a pitcher using cheesecloth or stocking.
Save