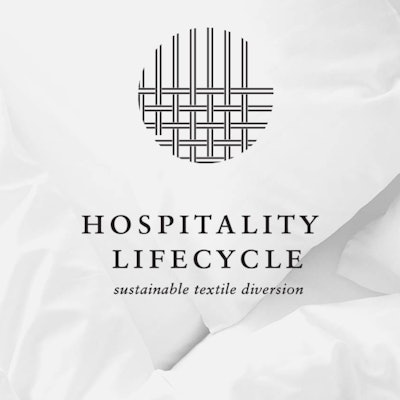 Noel Asmar Group has announced its latest sustainability initiative for hotels and spas. Hospitality Lifecycle textile recycling offers practical, cost-effective solutions for safely and securely disposing of used uniforms, robes, towels and sheets.
RELATED: ISPA Recognizes Innovate Award Winners
Known for designing the industry's first "Spa Uniform" in 2002, Noel Asmar Uniforms is a leading supplier of uniforms for hospitality and spa brands worldwide, as well as a longtime supporter of Green Spa Network. After recognizing the need to find sustainable and creative ways to manage her company's own textile waste, curiosity drove founder and creative director Noel Asmar to ask properties what they were doing with their expired uniforms. When it became clear that the businesses didn't have established policies for end-of-life textiles, Asmar was determined to find a one-stop service provider to help hotels and spas manage that waste.
RELATED: 15 Tips for Budding Entrepreneurs from Noel Asmar
Asmar found that partner in global recycling experts Debrand, and together they have introduced Hospitality Lifecycle to the United States and Canada. Tailored for properties of any size, regardless of where they purchase their textiles, the program is as easy as 1-2-3:
1) Box and ship products directly to Debrand (no minimums or maximums).
2) Debrand weighs, processes and sorts the textiles to allow them to recycle, upcycle or destroy products safely and securely.
3) Debrand provides a monthly or quarterly report on submitted goods from each company.
"With the textile industry being one of largest contributors to global pollution, industry stakeholders such as the hospitality sector have an incredible opportunity to collaborate and spark significant change," says Debrand VP business services Amelia Eleiter. "Debrand is proud to partner with the Noel Asmar Group on the launch of Hospitality Lifecycle, a program built to provide the industry with a simple, sustainable and necessary solution to textile waste."
About Noel Asmar Group:
 Founded in 2002, the globally recognized lifestyle brand includes Noel Asmar Uniforms, PedicureBowls.com and Asmar Equestrian. The designs can be found in such iconic spas and resorts as the Fairmont, Four Seasons and Ritz Carlton, and the company recently received an International SPA Association (ISPA) 2019 Innovate Award for its collection of uniforms made from recycled plastic bottles.
About Debrand:
 As a pioneer of secure disposal, Debrand acts as a trusted consultant offering both strategic and logistical support to organizations around the globe. With an intimate knowledge of textile recycling capabilities and innovation, Debrand is an active member of the Sustainable Apparel Coalition, the industry's leading alliance for sustainable production, and understands the challenges and barriers facing the apparel and textile industries.