Dedicated yogis on vacation don't have to skip their daily yoga routines thanks to Fairmont, Swissôtel and Raffles hotels around the world.
Dedicated yogis on vacation don't have to skip their daily yoga routines thanks to Fairmont, Swissôtel and Raffles hotels around the world. Whether traveling for business or leisure, from Arizona to Paris, Istanbul to Hawaii, guests can take advantage of an array of unique, challenging and revitalizing yoga classes and experiences to stay fit on the road.
Aerial Yoga at Fairmont Scottsdale Princess

Recognized as a world-leading resort spa destination in the heart of the Sonoran Desert, Scottsdale, AZ is a mecca for all things wellness. Offering a peaceful sanctuary where yogis can thrive, Fairmont Scottsdale Princess is one of the only resorts in the country to offer Aerial Yoga. This authentic form of yoga, utilizing a soft fabric hammock above ground, works with gravity to relax the body and soothe the mind. Aerial yoga allows patrons to go deeper into poses while having all the benefits of traditional yoga.

Go with the Flow at Fairmont Orchid
Flo-Yo (Floating Yoga) is a total core workout at the Fairmont Orchid, set on Hawaii's picturesque Big Island. Dedicated yogis and newbies alike use stand up paddleboards to glide out into the ocean waters before performing sun salutations, balancing poses and more through 40 minutes of serene floating yoga. The unique yoga offering connects the body, mind and breath and demonstrates benefits of building strength through balance and resistance.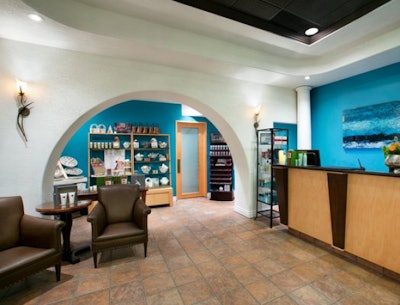 Yoga Retreats at Fairmont Chateau Lake Louise
Located in Alberta's Banff National Park, the iconic Fairmont Chateau Lake Louise offers the perfect setting for spring and fall yoga retreats. The retreats provide the opportunity to experience yoga activities in a serene mountain location. Guests can share a weekend with like-minded people doing yoga together.

Sunrise Yoga Paddle Boarding at Raffles Praslin, Seychelles
What better way to start the day than with some carefully guided sun salutations… on a paddleboard… in the Indian Ocean… at sunrise? Raffles Praslin, Seychelles' yoga master Sajeesh Pazhayidath regularly guides guests through private or group sunrise yoga classes to the sound of the sea. But instead of just listening to the sea, guests are now being encouraged to practice yoga on the sea itself. The board provides the perfect platform to increase the intensity of the yoga workout by creating a continuous challenge to balance and adapt to the motion of the board. This challenge adds to core stability and creates greater strength, flexibility, and balance.

Yoga at Le Royal Monceau, Raffles Paris
Combining Parisian chic with relaxed sophistication, Le Royal Monceau, Raffles Paris has a luxurious spa to match with its Spa My Blend by Clarins. While rejuvenating with an array of spa treatments, guests can throw in a one-hour yoga class with a private teacher, which is included in the My Royal Detox Day Spa Package. The end goal: replenish both body and mind.

Group Yoga at Swissôtel The Bosphorus, Istanbul
Located right in the center of Istanbul on the European banks of the Bosphorus, the contemporary Swissôtel The Bosphorus, Istanbul offers an array of group yoga classes, accompanied by lively music specially chosen for the physical, mental and spiritual practice of the yoga discipline. Through guided rhythmic movements, participants find the opportunity to burn more calories and practice in an entertaining atmosphere, whether taking a Vinayasa class, Ashtanga Yoga, or Yin Yoga, the latter being a slow-paced style of yoga that incorporates poses held for longer periods of time. Yoga for Back Pain is also offered, for anyone looking to alleviate any kinks or knots. Not feeling the group thing? Private yoga is also offered.

Yoga Four Ways at Swissôtel Bremen, Germany
At the elegant Swissôtel Bremen, located in the heart of the historic city, yoga enthusiasts can take advantage of four different Indian yoga styles (Ashtanga, Kripalu, Hatha and Kundalini) in the hotel's Pürovel Spa & Sport. Kripalu Yoga, for instance, uses inner focus, meditation, standard yoga poses, breath work and relaxation.

Welcome The Day With Asana at Swissôtel Kolkata, India
Swissôtel Kolkata invites guests to greet the day with Asana on the hotel's swimming pool deck. More than just stretching, asana opens the energy channels, chakras and psychic centers of the body. It purifies and strengthens the body, controls the mind and improves health naturally. The most conducive time is in the morning, during or after sunrise when one's spirit is most receptive to positive energy.