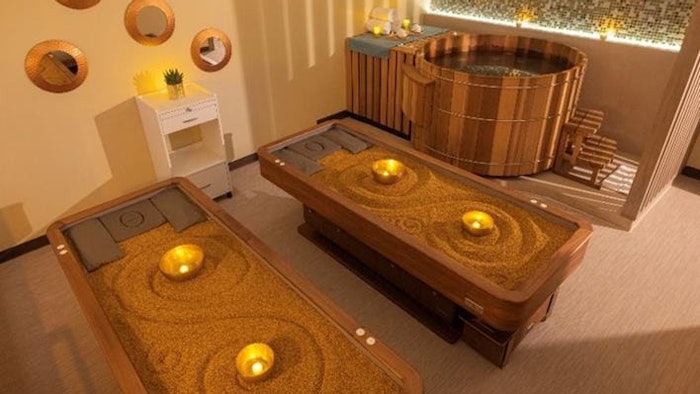 Photo Courtesy of Blue Diamond Resorts
Blue Diamond Resorts is one of the Caribbean's most dynamic and swiftly expanding resort conglomerates. With a diverse portfolio encompassing more than 60 distinct properties and 18,000 luxurious guest rooms, Blue Diamond Resorts specializes in curating unparalleled vacation experiences. Here are five treatments showcased at different Blue Diamond Resorts that take luxurious wellness to a new level.
Related: 5 Unique Spa Treatments Around the World
The Quartz Experience is inspired by Egyptian rituals. In the dimly lit room, guests will find a quartz bed filled with warm sand minerals that introduce wellness benefits and healing energy to the body. As guests lay on the bed, the sand minerals move to conform to your body shape and help store your body heat. You will also be treated to a relaxing bath in a private Japanese Wood soak tub and to finalize, a warm herbal tea to complement the experience.
Chromotherapy is a shower treatment that utilizes color therapy for a relaxing and calming experience. Each color on the spectrum of visible light is used to treat physical symptoms all while adjusting the body's vibrations. The result is optimal body health and harmony.
3. Wave Experience at Planet Hollywood Cancun Adult Scene
Also at Planet Hollywood Cancun, the Wave Experience is a 50-minute treatment that provides guests with the benefits of mindfulness and deep relaxation using Sound-Massage-System Vibro-wellness. A therapy based on the Quantum Harmonic sound, the treatment uses complex audio frequencies that balance the chakras. Red is used for revitalization, orange enhances mood, green brings you harmony, purple relaxes and renews, blue is celestial and peaceful and yellow is liberating.
The CBD Wrap at Royalton CHIC Cancun is a unique treatment that uses products formulated with cannabis sativa oil and hemp seed aqueous extract. The treatment uses CBD to help relieve muscle pains, but it also has antioxidants and anti-inflammatory properties for complete skin rejuvenation.
Guests are guided into a dim candlelit room with enticing fresh aromas that calm the senses. Once guests enter the large pool, they are treated to three different water treatments using alternating temperatures and sensations that help rehabilitate injured muscles, detoxify and relieve stress. Next, guests step into the water treatment pool set and enjoy an invigorating massage from the hydrotherapy jets, followed by time in the jacuzzi. The water treatment concludes with an ice shower that helps tighten pores and lock in the benefits, followed by time in the sauna and steam room, and a soothing head massage. Diamond Club guests receive a complimentary one-hour of therapeutic hydrotherapy access during their stay.