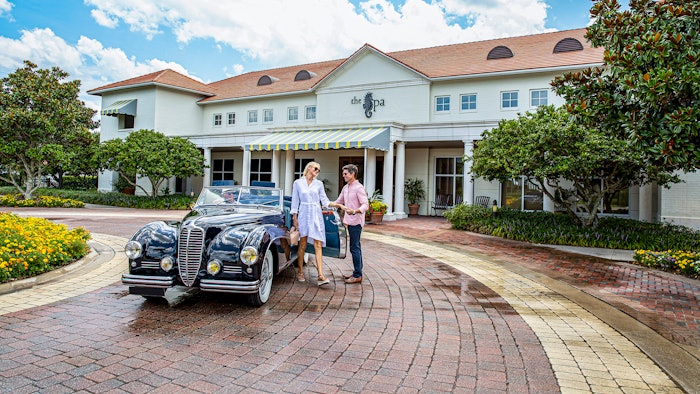 Photo Courtesy of Ponte Vedra Inn & Club
The spa industry has its fair share of standard treatments and repetitive experiences. Some spas, however, go a different direction with treatments that consider setting, consumer base or cultural influences. These four spa resorts go above and beyond to offer guests unique spa and wellness services that they can't find anywhere else.
Related: Unique Spa Treatments Inspired by the Elements
1. Frankincense Sommelier
The Frankincense Sommelier at Shangri-La Al Husn, Muscat is home to the first accredited Frankincense Sommelier in Oman, Khalid Al Amri, who educates visitors about the aromatic resin and its importance to the country. In his role, he oversees the traditional Omani welcome experiences and guided tours of the property's private frankincense garden with 21 frankincense trees. At the Luban Spa, guests can indulge in Arabian-oriental treatments and massages infused with frankincense oil.
2. Spa Barbershop
Stonedrift Spa, at Eagle Ridge Resort & Spa in Galena, Illinois, has opened a traditional barbershop onsite designed for men seeking a traditional haircut experience. The new barbershop offerings include grooming packages, haircuts, straight razor shaves and access to the spa amenities.
Male clients have the option to arrive early or extend their stay to utilize the onsite spa's complimentary amenities, including the sauna, hot tub, relaxation room and more. Stonedrift Spa's new salon also offers hair, color and skin products specifically targeted toward men and barbershop guests have the option of adding a facial treatment to any barbering service.
3. Citrus Glazed Gelée
The Spa at Ponte Vedra Inn & Club in Jacksonville, Florida, offers the Citrus Glazed Gelée, which consists of a vitamin E-infused towel scented with notes of vanilla being pressed onto the arms, legs and shoulders to prep the skin. A foaming whip with botanical suds rinses the skin clean before a smoothing serum unveils hydrating and healing results. This newfound glow is sealed in with body oil featuring the scent of fresh clementine oranges.
4. Za'atar-Infused Treatments
The Shangri-La Qaryat Al Beri in Abu Dhabi features treatments with za'atar, a popular herb in the Middle East known to detox the body, improve mood and increase cognitive function. Guests can indulge in a traditional Arabian Hammam Ritual, a deep cleansing experience using local and natural ingredients like sumac and za'atar spices, camel's milk from the Dubai desert, hydrated lemons in Fujairah dates from Ras Al Khaimah and solar salts from the Arabian Sea. Guests can also enjoy a Purifying Za'atar Body Scrub which exfoliates with an Arabian spice known for its detoxifying and antioxidant qualities.