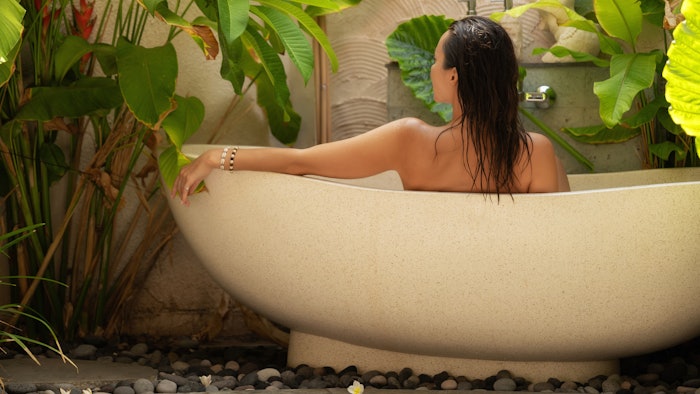 The elements have been linked to the body for centuries. Each element can be connected to specific body organs and systems, making it easier to promote order and balance in the body. We're sharing spa treatments from around the world that feature the elements in an attempt to bring alignment and longevity to guests. 
1. Earth
Bamboo and Stone Muscle Melt at Spa Botánico at Dorado Beach, a Ritz-Carlton Reserve | Dorado Beach
Spa Botánico has a simple mission, to connect guests to themselves in nature through restorative hands-on treatments. This integration of nature is woven throughout the spa and its treatments, including the bamboo and stone muscle melt, a 90 or 120 minute treatment designed to release muscle tightness and restore balance using bamboo massage tools and polished warm stones. To fully connect with nature, guests can add-on a 30 minute body scrub; honoring Puerto Rico's botanical and healing traditions that embrace the esthetic, cosmetic and medicinal importance of local plants, the house-made scrubs include a choice of coffee and clove, sweet lime and lemongrass or spiced bay and coconut. After the treatment, guests can spend the day relaxing in the infinity reflection pool overlooking a pineapple garden.
Rose Indulgence at The Joseph Nashville | Nashville, TN 
Rose Indulgence for back, scalp and face harnesses the healing vibrations of rose quartz crystals and pure Damescena Rose Oil to release tension and revitalize the skin. A chakra-balancing back treatment soothes, a scalp massage relieves tension, and Meridian tapping techniques revitalize and refresh. Acupressure with hot poultices and rose quartz crystal restores the skin's naturally glowing appearance. As a garnet face scrub protects and energizes, a cooling jade mask helps reduce the appearance of fine lines.
2. Air
Ozone Therapy with Fusion Wellness at Akoya Spa at Viceroy Bali | Bali, Indonesia
Ozone is a powerful treatment for some of the most difficult-to-treat illnesses and general health issues going around today. In addition to providing additional oxygen to the bloodstream, ozone also stimulates the immune system to respond to toxicity and infections. In general, ozone therapy causes a significant boost in energy levels, improvement of brain fog, improved cognition, and an overall sense of general well-being.
Hyperbaric Chamber Therapy at RAKxa | Bangkok, Thailand
RAKxa, a wellness resort located outside of Bangkok, Thailand, offers hyperbaric chamber therapy, a painless, non-invasive medical therapy in which individuals are placed in a chamber that slowly increases in air pressure, allowing the patient's lungs to gather more oxygen, optimizing the body's healing process at the cellular level. This treatment can assist with a variety of ailments including anemia, suppressed immune systems, and brain fog.
Related: The Five Element Theory for Total Body Well-Being
3. Fire
Fire & Ice Stone CBD Massage at The Spa at The Joule | Dallas, TX
Using a combination of CBD oil with cool jade stones and warm volcanic stones, The Fire & Ice Stone CBD Massage is a stimulating massage for rejuvenating and relieving deep muscle tension. The experience begins with a welcome foot ritual, prompting a sense of relaxation in the nerves, improving blood circulation and allowing the body to unwind for better sleep. Leading into the massage, the cooling effects of the jade help to reduce inflammation while the warm volcanic stones ease muscles and soothe aches and pains. Concluding the treatment, a deeply relaxing scalp massage supports the production of serotonin to effectively calm both the body and the mind. 
Lymph & Light by Katie England at NoMad London | London, UK
The Lymph & Light dual treatment stimulates and hydrates the face and body, using Dermalux light therapy to naturally enhance skin health, while the Slimyonik Air Bodystyler provides pneumatic pressure massage for the lower half of the body, while a nasal cannula boosts oxygen intake into the body, leaving guests with brightened skin and energized lymphatic systems.
4. Water
The Ocean Serenity Ritual at The Spa at Sanderling Resort | Duck (Outer Banks), NC
The Ocean Serenity Ritual is unlike many other treatments, as it includes two therapists who work on the body and face in tandem in the hydrotherapy room. The ritual allows the guest to receive a hydro-tub massage by submerging in the water, while one therapist massages the arms with cold water and the other massages the face. This is followed by a face masque, scalp treatment, signature ocean sea salt glow and moisturizing body wrap, Scots Hose massage and Vichy rain shower.
Sea The Glow Facial at The Spa at The Equinox | Manchester, VT 
This facial treatment pampers guests with a luminous blue mask that is infused with marine extracts to leave skin plump and hydrated. A glow-in-the-dark LED treatment and a generous dose of vitamin C, gives guests that, "I was on vacation"- like glow. This facial includes an optional gentle peel.