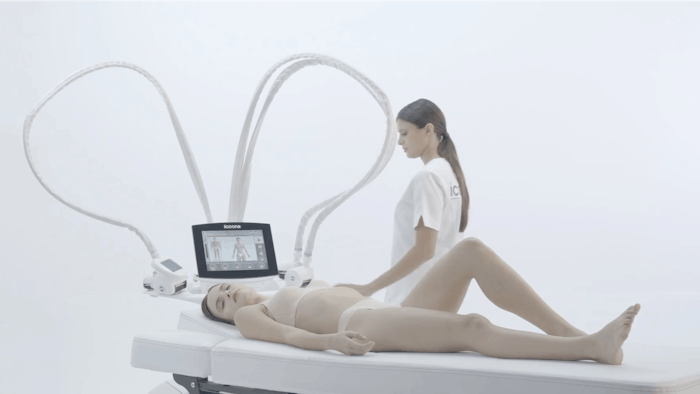 Photo courtesy of Skin Science Solutions.
Equinox Hotel New York has partnered with Skin Science Solutions to bring icoone treatments to its spa experiences. The icoone device is able to optimize lymphatic drainage and perform lipolysis (on the body) to deliver toned skin, a sleeker physique and better overall health.  
Related: [Webcast] The Science of Skin
The Spa by Equinox has created unique spa treatments that incorporate the icoone device. 
Precision Body Sculpt tones the body, firms the skin, reduces the appearance of cellulite, relieves muscle pain, improves circulation and optimizes lymphatic drainage. Ideal for guests looking to restore a harmonious body shape. 
Power Lift for Face + Body contours the body and oxygenates the face. The icoone Roboderm technology stimulates the production of collagen and elastin, smoothing signs of aging and restoring firmness, making the guest look visibly younger. 
Silhouette Shaper is a stimulating body contouring treatment that combines lymphatic drainage, deep anti-cellulite massage and glove sculpting to shape the silhouette. Concentrated actives are added to stimulate tissues and help break down adipose cells to smooth and tone the skin. 
Polish + Glow is ideal for dehydrated skin in need of deep exfoliation and hydration. A combination of acids and mechanical exfoliation smooth out texture while a massaging application of hydrating cream replenishes moisture, leaving skin toned and glowing. 
Accelerated Circuit is an experience designed to sculpt the silhouette in three weeks. The weekly program includes two Precision Body Sculpt icoone treatments and one Silhouette Shaper manual body sculpting treatment. 
"The Spa currently offers a variety of high-performance treatments spanning from facials and full body treatments to techno-therapies designed to enhance guests' health and performance, and icoone Roboderm is the perfect compliment," said Ara Patterson, vice president of food and beverage and spa innovation at Equinox Hotels.