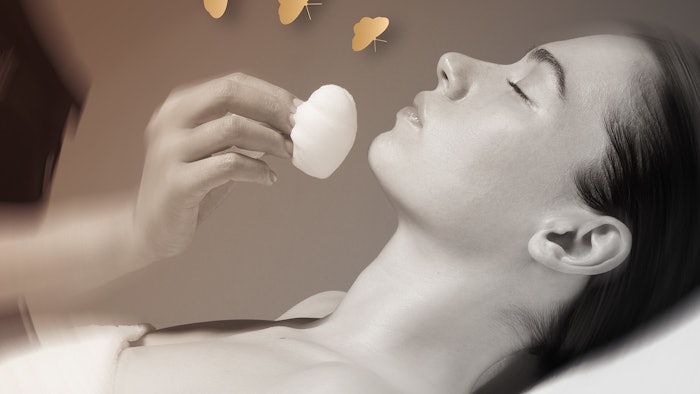 Valmont launched a menu of facials that have been enhanced with new movements, products and music for an experience that engages all of the senses. The protocols have been further elevated with an augmented experience that includes soothing sounds from the Swiss mountains and therapeutic frequencies composed by Swiss musician Ripperton. 
The new treatments utilize Valmont's iconic butterfly motion, comprised of gestures that promote precise application of products with a delicate choreography. The technique uses effleurage techniques targeting specific areas of the neck, face and chest; it also helps revive microcirculation and stimulate lymphatic drainage. 
Related: The Wellness Benefits of Lymphatic Drainage
The enhanced facial menu includes: 
Hydration of the Bisses (60 min./$295-375) targets fluid flow throughout the face and body to deliver hydration to the skin. It is accompanied with delicate and slow massage to promote lymphatic drainage and fluid mobility. 
Energy of the Glaciers (60 min./$295-375) revitalizes the skin by stimulating oxygenation. It is accompanied with an energizing and relaxing massage that focuses on the vascular system to revitalize and erase signs of fatigue. 
Luminosity of Ice (60 min./$295-375) focuses on refining and brightening. It targets skin tone and texture to bring radiance to the complexion. The massage for this facial is inspired by facial reflexology to flush toxins from the skin and leave a luminous glow. 
Lift from the Peaks (60 min./$295-375) targets wrinkles and provides a lifting, smoothing effect while reducing superficial and more pronounced lines. This treatment's massage works on the fascia with slow and deep movements to relax and tone the muscles. 
All of these treatments became available to Valmont spas across the U.S. on April 4, 2022.