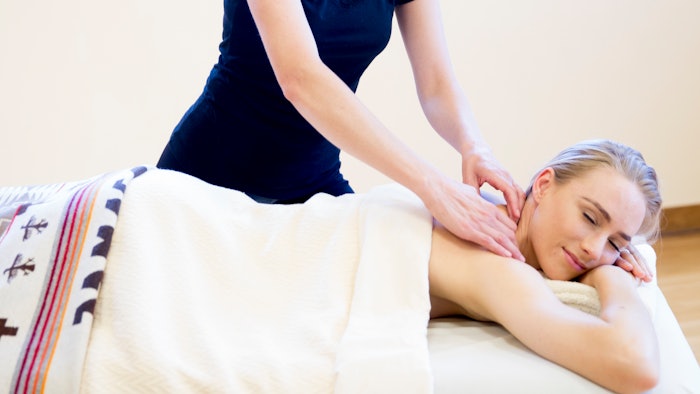 Courtesy of The Alisal Guest Ranch & Resort
The Alisal Guest Ranch & Resort has introduced spa and wellness programming that addresses the specific needs of its clientele. The Spa at The Alisal provides a tranquil respite where guests are encouraged to relax and indulge in a variety of wellness services. Check out the following treatments and consider creating your own specialized programs for clients. 
Sip & Stretch is offered on the last Sunday of every month and includes outdoor yoga underneath a giant oak tree and seasonal, local and organic fresh-pressed juices. Customized for all levels, the restorative yoga session is aimed at slowing down, finding stillness and opening up the body through passive stretching and gentle poses. 
Giddy-Up! is the ideal full body massage for cowgirls and cowboys after a day of riding. It's focused on specific areas of the body commonly overworked when on horseback, such as the core muscles, obliques, lower back and legs. Pre- and post-horseback riding massage packages are also available.
Game, Set, Match, another full body massage experience, was created for tennis players. Targeting the wrists, arms, shoulders and ankles, the service is also available for pre- and post-tennis massage.
Hoof & Paws massage focuses on the hands and feet, utilizing deep pressure and stretching techniques to alleviate soreness. Recommended for tennis players, golfers or anyone who is often on their feet.
Ridin' Shotgun is a massage of the face, scalp, neck and shoulders. This treatment incorporates soothing strokes, stretching, cranial holds and pressure point stimulation to induce relaxation, increase circulation and melt away stress.
Rancher's Respite is a mix of spa treatments that promote relaxation from head to toe. It's a custom service that includes an invigorating exfoliation and hydration treatment of the legs and feet, followed by a stress relieving massage of the head, neck, shoulders and arms.