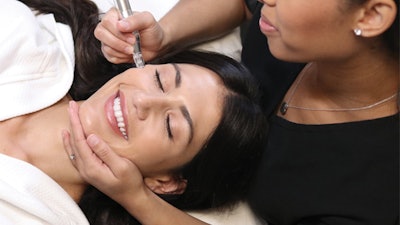 As we settle into 2020, it's clear that key consumer trends are shaping the facial forecast. Spa-goers are seeking holistic wellness and inner calm, high-tech tools combined with natural formulas and speedy services in a hyperactive world; they want to hit those high notes—and more—via facials that transform their skin, stat. "Today's guests are looking for ways to keep their skin healthy and slow the aging process," notes Diane Hibbard, vice president of treatments and development at California-based chain Burke Williams Day Spas. "And they want treatments that offer immediate results."
To find out what skincare services are truly keeping clients looking and feeling their best, DAYSPA talked to top spas about their most popular facials—and how they deliver the results that today's guests crave.
Regenerate: Anti-Aging Facial (80 min./$260-$285 for members; $340-$375 for nonmembers) Burke Williams Day Spa, 10 locations in California
Targeted treatment: Created to reduce fine lines and scarring while supporting firmer, more elastic skin, this service boasts visible results that continue to improve post-treatment. A nanopen with silicon tips preps the skin by creating microscopic channels, increasing cell turnover and allowing subsequent treatment products— rich in antiaging peptides and stem cells—to penetrate more deeply. A superfruit peel gently resurfaces and refines the skin, followed by a powerful hyaluronic acid (HA) booster serum. The facial finishes with a freeze-dried collagen mask that helps further soften wrinkles and slow collagen depletion.
Key components: The nanopen gently awakens skin's collagen-producing cells, thereby stimulating collagen synthesis and delivering an instant glow. "Guests leave with visible improvement after only one session, and those results increase with a series," reports Hibbard. "These clients end up coming back for multiple sessions and raving about smoothed out wrinkles, calm and hydrated skin, and an overall supple and more radiant look."
Island Vitality Facial (60 min./$250; 90 min./$365), Hawanawana Spa at Four Seasons Resort Lanai, Hawaii
Targeted treatment: Ideal for normal to combination skin, this holistic service is designed to address signs of premature/ chronological aging and dehydrated, dull or irritated complexions. After a self-love meditation to relax and nourish the spirit, the therapist performs a massaging cleanse, paired mask application, and layers on a customized blend of serums and dynamic- structure water elixir—all of which are enhanced with specialized gua sha techniques to improve skin health and overall wellness.
Key components: The facial features ANDA Skincare, an organic product line rich in adaptogenic nutrients that help revitalize the complexion. "Adaptogens are medicinal herbs and botanical extracts that have evolved in order to thrive in severe climate conditions, and it's believed that they can help the body adapt to stress," details spa director Jessica Candy. "When applied topically, adaptogens can soothe, balance and strengthen skin, and even slow signs of aging." The potent skin care is paired with ancient Chinese gua sha massage to provide extra firmness, radiance and hydration, while detoxifying and easing tension and inflammation.
Si of Youth O2 Resurfacing Facial (50 min./$215; 80 min./$335), SiSpa at Palm Beach Marriott Singer Island Beach Resort & Spa Riviera Beach, Florida
Targeted treatment: This facial is designed to brighten and rejuvenate all skin types. Spa director Nancy Falero recommends it for cooling and calming sun-stressed skin, and rebalancing travel-weary or overworked clients. The service starts with a double cleanse and skin-refining enzyme exfoliant, which combines lactic and salicylic acids, papaya, pineapple and bamboo beads. Next, the esthetician performs extractions and utilizes an Intraceuticals device to infuse cooling hyperbaric oxygen and a professional-strength treatment serum—tailored to specific concerns—deep into the skin, which visibly plumps and hydrates. The service concludes with rejuvenating serums, an eye gel and a moisturizer.
Key components: According to Falero, the facial's ability to improve the complexion is all thanks to oxygen infusion. "Intraceuticals therapeutic oxygen under pressure delivers a special serum formulated with low-molecular-weight HA, essential vitamins, botanicals, antioxidants and peptides to achieve instant results," she enthuses. "Clients love how their skin instantly looks and feels healthier and more vital."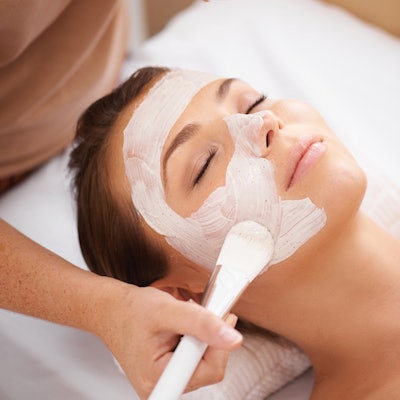 Line Eraser Advanced Technology Facial
(60 min./$250),
Oasis Day Spa
New York and Westchester, New York
Targeted treatment: Featuring procedures that energize, nourish and plump the skin, this high-tech option is perfect for special-occasion prep. First, the esthetician applies a serum formulated with potent botanicals, peptides and antioxidants that help minimize the appearance of fine lines and wrinkles, and low-intensity microcurrent pulses are used to help diminish the appearance of sagging. Next, the therapist administers a red and blue light therapy treatment before applying marine collagen face and eye masks rich in HA and orange flower to de-puff and firm. A final oxygen infusion helps the skin appear more refreshed and radiant.
Key components: Multiple cutting-edge modalities are certainly the focus of this facial, and the spa actively seeks options that are "designed to treat the most demanding skin," says the Westchester location's skincare director Lizzi Kolovic, who notes that microcurrent achieves a lifted look after only one session, and the compressed oxygen bursts awaken the skin for a more youthful appearance. "Plus, the red LED light helps smooth fine lines, and the blue light calms and soothes," she adds.
HydraFacial (30-60 min./$150-$295), Viva Day Spa Austin, Texas
Targeted treatment: This deep-cleansing facial is intended to provide a brighter, healthier-looking complexion for all skin types, including aging, dull or acne-prone skin. After washing away makeup and other residue, the therapist uses the HydraFacial device to exfoliate the skin and loosen pore congestion using gentle glycolic or salicylic acids, followed by extractions. Then, HydraFacial flushes out the pores, removing impurities and toxins with a combination of water and skin-nourishing actives. Finally, the device infuses the complexion with a specially formulated mixture of peptides, antioxidants and HA. Other available options during this treatment include lymphatic drainage, booster serums to address specific needs, LED light therapy, and eye and lip treatments.
Key components: The HydraFacial device streamlines the entire process by cleansing, exfoliating and hydrating skin with a single tool. "It's great for maintenance of all skin types—and it's quick," says Viva Day Spa partner Maya Aroch. "Clients rave about the noticeable differences in skin texture, firmness and even wrinkle reduction, while our acne-prone guests are hooked on the corrective benefits and love the gentle, painless extractions."
–by Tracy Morin
This story first appeared in the February 2020 issue of DAYSPA Magazine. To receive the magazine, 
subscribe here
.