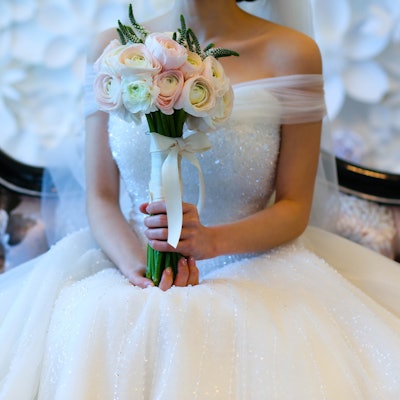 Check out what these spas are doing to pamper their clients before they walk down the aisle.
Miraval Life in Balance Spa, Dana Point, CA
Bridal Beauty Package (220 min.)

The Salon at Miraval Life in Balance Spa is a stellar place for clients to prep for their big day. Included: a 60-minute Bridal Makeup Application, 60-minute Drybar Bridal Styling, 50-minute Deborah Lippmann Signature Manicure, 50-minute Deborah Lippmann Signature Pedicure, signature Spa Bellini and full spa access.
Santa Barbara Spa Del Mar, Santa Barbara, CA
Spa Del Mar is another top choice  for bridal and bachelorette parties. As an added bonus, by booking eight or more services clients can reserve the entire spa for their exclusive use. Among the standout options from the dedicated menu are:
Rejuvenating Back Treatment
This kicks off  with a relaxing back cleanse and exfoliation; next a soothing mud mask revives fatigued back muscles while the clients' hands and feet are massaged. This treatment is completed with a therapeutic neck, back and shoulder massage.
Mini Facial Tune-Up
Excellent for dry, neglected skin that needs a boost. A thorough cleanse and exfoliation is followed by a face and neck massage; next a nourishing mask replenishes the skin while the therapist performs a hand and foot massage.
RELATED: Spa Pros Share Their Favorite Antiaging Treatments
Delray Beach Spa, Delray Beach, FL
Timeless Beauty Package:
Diamond Sugar Body Polish (25 min.)
Seagate Spa's Diamond Sugar Scrub, featuring organic coconut oil, invigorates, exfoliates and softens the skin, lending a radiant glow.
Frangipani Head-to-Toe Massage (80 min.)
This gentle-touch soothing massage aims to restore peace and harmony. Frangipani, the "Flower of the Gods," along with organic coconut oil, deeply hydrate and nourish, leaving the skin and hair feeling satin smooth.
Champagne and Diamonds Manicure & Pedicure (80 min.)
Guests can sip a glass of champagne while a mineral salt bath soothes their tired feet. An aromatic raw-sugar rub and rejuvenating clay mask detoxify and rehydrate the skin. The hands are soaked in hydrating essential oils and exfoliated with a brown sugar scrub, and the nails are then manicured and polished.
RELATED: Spa Pros Weigh in on the Benefits of Enzymes
Remedi Spa, Staten Island, NY
The Bride

Includes a 60-minute Lifestyle Facial, Swedish Massage, Sugar Body Scrub, Spa Manicure, Spa Pedicure and a light lunch.
The Maid Of Honor
Comprises a 30-minute Hydrating Facial, 30-minute Swedish Massage, Spa Pedicure and a light lunch.
RELATED: Tips and Advice for Facial Hair Removal
Belfiore Salon & Day Spa, Rockwall, TX
Bridal Bliss Package

Features a rejuvenation facial, brow and lip wax, trial day hair and makeup, and wedding day hair and makeup.
Suzanne Morel Face & Body Care, Los Cabos, Mexico
Happily Ever After Package
Includes a  60-minute side-by-side couple's massage, with aromatherapy oil and a refreshing manicure and pedicure.
Here Comes The Bride Package
Consists of a full-body exfoliation, Bamboo Facial with a 15-minute scalp massage and a Champagne Manicure and Pedicure.