The holidays are a notoriously stressful time, and your clients are not immune. Their skin must look its best while they put together family dinners or fly cross-country to visit relatives. And when they seek out services for radiant skin, it's your judgment that they trust.
Regarding hair removal, skin on the face is much more delicate and sensitive than other areas, and must be treated as such. Susanna DiSotto, director of marketing at Satin Smooth, says that what makes facial skin physiologically different from body skin is the "density of nerves and blood vessels concentrated in a small area." With that in mind, we gathered dependable hair removal protocols and post-care considerations to ensure your clients are satisfied and keep coming back all year round.
RELATED: Sharpen Your Staff's Spa Skills with Continuing Education Opportunities
Normajean Fusco, Owner/president of Equibal Labs
"When removing hair from the face, make sure you're gentle and that your clients use an after-care product that protects their skin and newly emptied hair follicles. Nufree non- wax hair removal is antibacterial, antimicrobial and designed for sensitive skin; the strip doesn't stick to the skin and can remove the entire hair without breakage. Then our Nufree Finipil helps prevent bumps, irritation and ingrown hairs—which clients definitely don't want on their upper lips or eyebrows!"
Paula Pedrero, Educator at GiGi
"Facial hair removal should be approached with caution, as that skin will lift more easily than other areas of the body. For that reason, we suggest a hard wax like GiGi's Floral Hard Wax for this area. It's gentle, yet strong enough to remove stubborn hair. I can straighten a hairline, perfect a brow, wax unsightly nose hair, remove blackheads or wax the entire face for allover exfoliation. It's truly versatile and can give skin a polished, glowing look."
RELATED: SEO Strategies for Your Business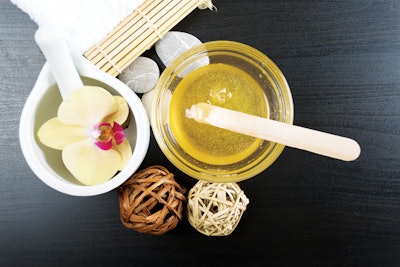 Lindsay Miller, President of Lycon USA Precision Waxing
"As with all area waxing, clients must follow an at-home post-waxing regimen to achieve the best results. Even in winter, they should use extra caution in terms of sun exposure and apply SPF in the days following their wax, as their skin will be more sensitive to UV rays. Clients can also use an aloe vera lotion to calm any redness or irritation. Soothing washes and lotions containing antibacterial ingredients, such as tea tree, can be beneficial for those suffering from acne or who have very sensitive skin."
Deborah Merhar, Founder of Relax and Wax
"Facial waxing is one of the most commonly requested services among women. However, there are several aspects to consider, especially if they've never had it done before: The face is inclined to break out following first-time waxing. It can also become inflamed and, in some cases, swelling may occur. To avoid this, try to perform the initial treatment two months prior to any big event your clients may have coming up, and be sure to discuss any products or treatments they're using. After a few services, their skin will become accustomed to the treatment and reactions should subside. I personally recommend using a hard wax with an oil barrier for the face, as the skin will be softer and smoother, and makeup can be applied more easily—perfect for radiating skin from within!"
Susanna DiSotto, Director of marketing at Satin Smooth
"Use manufacturer-recommended pre- and post-treatment products. Each manufacturer tests its products according to a complete protocol—not just wax application and removal. Pretreating any area with a nondrying cleanser is vitally important for preparing the skin and hair for waxing. Use formulations that contain skin barriers and conditioners, with no excess oil or powder to remove afterward— post-treatment will be quick and simple. Remove all wax residue, and apply calming and nourishing products—like Satin Smooth Satin Hydrate or BeSmooth—to help promote lasting skin protection and faster healing."
Quick Facts
Hair can take two to three weeks to regrow following a professional hair removal service.
According to The American Society of Aesthetic Plastic Surgery (ASAPS), hair removal (for men and women combined) was the third most common nonsurgical service in 2016, with over 1 million procedures performed.
Between 2011 and 2016, the hair removal industry grew by 13.7 percent.
Almost 31 million Americans used at least one hair removal product in 2016.
–by Sarah Reyes
'Tis the season for parties, which means a rush of facial hair removal clients. Read on for top pro tips and advice.