A refresher on how to optimize your website and social media to bring in more traffic.
Do you know which search terms people use to find your spa online, or how to keep them on your website once they're there? Even if many of your existing guests come to you via word-of-mouth recommendation, it behooves you to master the art of search engine optimization (SEO). Why? Because you'd be able to reel in more profits by capturing potential clients who are browsing the web for spas. In fact, according to a study by online advertising network Chikita, the first search page on Google gets a whopping 91.5 percent of the clicks.
Fortunately, website software has become easier to use, and implementing basic SEO techniques can mean the difference between a full treatment schedule and personnel twiddling their thumbs. We covered this topic in DAYSPA's March 2016 issue, but with the rules changing all the time, we're bringing you a rundown of some of today's most important SEO components, tips and tactics to drive your business forward.
Pages and Phrases
Let's start with the URL, the address for each specific page. You already have a URL, such as myspa.com, but you can also customize the names of additional pages you create. "This name is extremely important—it's one of the first things that Google looks at when crawling the page," says Matthew Lee, owner of Rockstar Digital Media in Long Island, New York. No need to get clever, however: You want to make it easy for Google to identify your page theme. For a page that lists your massage services, for example, you could use the URL myspa.com/massage. That way, web crawlers will instantly know what the page is about.
RELATED: Honing Paid Search Engine Marketing
Next, look at title tags, which present another opportunity to show your page's relevancy to the search engines and bring in traffic. When viewing a Google search page, the title tag is in big blue letters above the URL in the individual search result. Using around 60 characters, make your title tag descriptive but easy to read, and include a couple of keywords. Lisa Boyle, CEO of Paradigm Shift SEO in San Diego, suggests keeping title tags short, concise and specific. "I find that the cleaner they are, the better they rank," she says.
Meta descriptions, which appear just beneath the title tag and URL in the search results, allow you to explain the page contents in one or two short sentences. Meta descriptions serve two purposes, says Boyle. In addition to Google using it for SEO, the customer reads the snippet to decide whether to click. For this
reason, "I like to treat my title and meta descriptions like ad copy," she says. Keep your meta description at or below the 160 character limit, and try to use keywords in it as well. If one keyword phrase is "salon services in Union County" and your spa wants to appeal to a range of customers, you can use a meta description such as: "My spa provides relaxing massages and salon services in Union County. We welcome wedding parties and convention attendees, and offer gift certificates."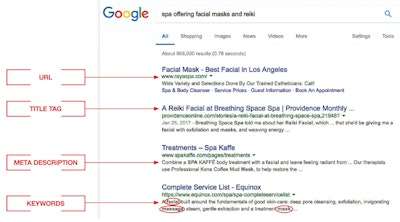 Keywords, a set of words used consistently on a page or site, continue to bring up the site ranking, even with Google frequently changing its algorithm. "Keywords are the basis of everything we do on the SEO side," says Boyle. If you run a day spa, you may want your keywords to include the towns or region you serve in order to target customers at a local level. However, don't be tempted to stuff the site with keywords as it will sound artificial, which can be detrimental to SEO.
RELATED: The Impact of Instagram
To determine how to use certain keyword phrases, such as "reiki," try Googling that term with the name of your town to see how your competitors' websites are using them. You can also use a tool such as Google's Keyword Planner, a method employed by the staff at City Wellness in St. Augustine, Florida. "Our traffic comes mainly from online searches using keywords we have optimized on the site," says co-owner Allyson Sunderman.
Stamping Your Authority
Consider adding blog posts and in-depth information to your site to draw in visitors and keep them there longer. "A user will come to you to be educated, not just to buy," says Lee. From your site, they'll learn about your facility, equipment, services and experience, as well as how you treat customers. Compelling content on the site is a must, agrees Sunderman. "It's not enough to just list your services; you need to go into a little bit of depth on what you provide," she says. This will help establish you as an industry authority, a strategy that should carry over to your social media accounts as well. "We want to educate our guests about what we have to offer, and we strive to present ourselves as experts in our field," says Kristin Johnston, hospitality manager at Allyu Spa in Chicago.
RELATED: Spa Management – Assessing Your IT IQ
Another way to demonstrate authority and boost SEO results is by creating short videos that showcase your spa and any special services or products you offer. How-tos on nail or hair techniques are always popular because telling, not selling, is a great way to attract and keep customers. For cross-promotion, upload videos on your YouTube channel and then embed them onto your site. In addition, try posting snippets of your blog posts on your social accounts to direct readers back to your website.
Before you dive into an SEO program, it's worth spending some time crafting a plan. "We've had success by creating a user experience that's simple, informational and appealing, as well as incorporating keywords," says Sunderman. "These have been the backbone of our SEO, social media and website traffic."
– by Deborah Abrams Kaplan