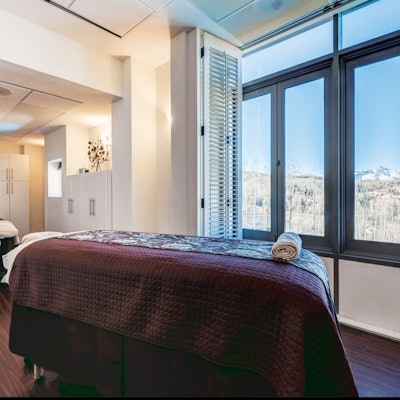 The largest spa in Colorado helps its adventure-loving, health-conscious clients get pampered and pumped.
The Distinction
Located a short walk from the Mountain Village gondola and boasting breathtaking views of the San Juan Mountains, the Spa at The Peaks Resort is not only the largest in Colorado, but a reflection of the active approach to health and wellness so prevalent in the area. "In addition to luxurious treatments, we offer nutrition, hypnotherapy, acupuncture and personal training sessions," says spa director Alexandra Sharpe-Keene, who joined the staff in early 2018. "You can see our guests glowing when they leave, clearly rejuvenated after their treatment or class. The combination of a holistic spa experience in the context of the elevated majesty that surrounds us is virtually unmatchable."
Capturing Clientele
The spa's busiest seasons are winter and summer, when tourists and locals alike take full advantage of Telluride's many outdoor activities, from snow sports to golf. Overnight guests staying at The Peaks Resort make up about 60 percent of the clientele. "As a destination spa, our business is dictated by seasonal occupancy instead of special promotions or traditional marketing efforts, but our alliances with first-rate brands reinforce the quality of our services, and word-of-mouth referrals are a direct result of our superior staff," enthuses Sharpe-Keene. Local residents, many of whom are spa members, account for the remainder of the visits. "Having a strong membership base is invaluable to our profitability and allows us to offer a wide range of treatments, fitness classes and wellness programs," says Sharpe-Keene.
PHOTOS: The Estuary Spa, Mount Pleasant, South Carolina
Management M.O.
The spa has a strong onboarding program with rigorous training that gives new team members a crystal-clear picture of their job requirements, as well as the resort's expectations. This process ensures that spa staff are like-minded, with caring and entrepreneurial spirits, explains Sharpe-Keene. "We always set expectations from the beginning and work hard to foster a supportive and compassionate environment where people are valued for all of their contributions," she adds. "This allows for a strong, loyal and appreciative team, and results in the best possible guest experience."
In-Demand Services
The spa's most popular offering is the Peak Performance (90 min./$275), a stimulating massage that encourages circulation and relieves sore muscles and stiff joints while energizing the senses, thanks to the use of Naturopathica Alpine Arnica Bath and Body Oil, along with the brand's Muscle and Joint Recovery Tonic. "Our clients lead very active lifestyles, and this service is perfect after a day of skiing, riding, hiking or mountain biking," notes Sharpe-Keene. Guests are also drawn to the spa's Mountain Moisture Drench (60-90 min./$185-$245), which helps combat the drying effects of the area's high altitude, and the Pigment Balancing Treatment (60 min./$185), a customizable facial incorporating anti-inflammatory and brightening agents to heal sun-damaged complexions.
The Goods
In the treatment room, the spa uses products from Innersense, Naturopathica, SkinCeuticals and Tata Harper, which are also sold in the retail boutique alongside brands including Buck Naked, Olio E Osso, ORGAID and The Sage Lifestyle.
PHOTOS: Spa Hopping – Bota Bota, Montreal, Canada
Location: Telluride, Colorado
Owner: Telluride Ski and Golf
Opened: 1985
The Space: 45,000 square feet with 29 treatment rooms (20 single, 2 couples' suites, 6 facial rooms, 1 wax room); fitness center with 3 group classrooms, a cardio room, weight room and Spinning room; full-service hair and nail salon; boutique; oxygen inhalation lounge; men's and women's lounges with dry saunas, Roman tubs, hot tubs and steam rooms; lap pool; and heated indoor/outdoor pool with a waterslide.
Staff: 66, including 26 massage therapists, 6 estheticians, 4 dual-licensed massage therapists/estheticians, 4 cosmetologists, 10 front desk, 10 attendants, 3 personal trainers, retail specialist, director and assistant director.
–by Alexa Joy Sherman
[Images: Courtesy of Spa at The Peaks Resort]
This story first appeared in the January issue of Dayspa magazine. To receive the magazine, click here to subscribe.