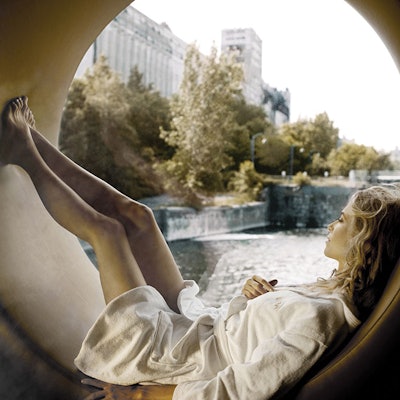 Permanently docked in Montreal's Old Port, Bota Bota takes the Nordic spa experience to the next level.
The largest city in Canada's Quebec province, Montreal has long been known as one of the country's most chic tourist destinations. But for all of its modern sophistication, haute cuisine and high-end hotels, a rich history—dating back to 1642—is also a huge draw for visitors who delight in its quaint European charm, especially prominent in Old Port's narrow cobblestone streets and French colonial architecture. Adding further appeal is the beautiful Bota Bota, a floating Nordic-style spa. It's not the region's only such spa—after all, Quebec boasts more outdoor hydrotherapy circuits than any other Canadian province—but it's certainly one of the most unique.
Geneviève Emond credits her father Daniel, with whom she owns Bota Bota, for introducing her to the benefits of hydrotherapy: After he built a sauna at the family's lakeside cottage, they spent their summers alternating between the steamy soaking tub and chilly lake water. Inspired by these childhood experiences and their considerable health benefits, Emond was determined to bring similar wellness offerings to the big city. Alas, real estate was scarce—until her father learned that the floating structure in the Saint Lawrence River was up for sale, and proposed that they buy it and build the spa on board. Thus, in December 2010, Bota Bota opened for business.
RELATED: Industry Leaders Reveal the Trends and Challenges in the Spa World in 2019
Ship Shape
After purchasing the stationary 60-year-old ferry, Emond was faced with the immense challenge of creating a full Nordic spa, complete with whirlpool tubs, icy plunge pools, Finnish dry saunas, cold showers and steam rooms. "We were putting huge hot tubs that are bigger than most residential pools on the top deck, which makes no sense to a naval architect," she explains. "When you design a boat, you want to put all the weight in the bottom for stability or else it's going to flip." Therefore, the vessel had to be taken to a dry dock where the hull was significantly enlarged. "We had to make it unsinkable, but do it the right way," notes Emond. For added stability, Bota Bota is attached to metal poles dropped into the riverbed. So far, no bad weather has caused it to do more than gently rock.
The spa's clientele includes tourists, urban hipsters and affluent locals. After crossing a short bridge to board the floating spa, guests are greeted by a stunning architectural conversion that pays homage to the fact that Bota Bota started out as a humble ferry boat, but embraces light in clever ways that make the space on each of the five decks feel considerably larger. There's a million-dollar view from every level—even from inside, whether through floor-to-ceiling windows or one of the 678 stylized portholes.
Bota Bota was a hit as soon as it opened, and needed to expand quickly in order to keep up with consumer demand. So the restaurant, helmed by a Michelin-starred chef and initially located inside the ship, was moved onto an attached floating dock, and gardens were added to the existing dock where the boat is moored. During the summer, the gardens stay open until 1:30 a.m., and include a bar and live DJ. The offices are also in the process of being moved off the boat to free up more space for treatment rooms.
RELATED: 7 Tips for Boosting Your Spa's Retail Sales
All Hands on Deck
Beyond its unique and impressive facilities, Bota Bota is known for the authenticity of its spa treatments. Although the massage therapists are independent contractors, Emond helps fund their training in Thailand, Hawaii and beyond to further their skills. "They go off for three month
s or even a year, and we support that," she notes. The estheticians, who are all employees, also go through rigorous training to ensure they master each skincare protocol and are well versed in the product lines.
The spa's most popular offerings are its signature massages, which are often booked in conjunction with the water circuit ($30-$55, depending upon the hour and season). During my visit, I received the Thai Massage With Oil (60 min./$80; 90 min./$110). After changing into a robe, I headed to the middle deck to meet my massage therapist, Elisabeth, who led me to the luxuriously appointed therapy room. As I noticed the soothing light filtering in through dozens of small portholes set into the black walls, offering tiny glimpses of the city, Elisabeth told me that the view was just as spectacular at night, particularly when there are fireworks in the harbor—a dazzling show that takes place throughout summer.
After settling onto the massage table, I slid between the cotton sheets, luxuriating in the heating pad beneath me. Then, Elisabeth showcased the extensive training she'd received in Thailand, massaging my muscles into submission using a soothing blend of mango and shea butters, combined with grape seed, sunflower and safflower oils. Having correctly assessed that I had the posture of someone who works at a computer most of the time, she focused primarily on my neck and shoulders, kneading away the knots and lulling me into a state of complete relaxation as low-fi French music played softly in the background.
Healing Waters
After my massage, I headed straight for one of the whirlpool tubs on the top deck—a silent zone overlooking the city that felt miles upon peaceful miles away from the bustling metropolis. The 103-degree water further melted my muscles, and I sat in serenity with a few other guests who appeared equally blissed-out by their Bota Bota experience.
At sundown the following day, I returned with two friends to enjoy the Nordic water circuit and gardens. We began with an intense eucalyptus steam bath, breathing in deep and relaxing as the heat worked its pore-dilating, toxin-releasing magic. Next, we plunged into the freezing-cold pool just outside the sauna door in order to get our blood pumping and close our newly cleansed pores. Finally, we chilled out in one of the whirlpools on the top deck, looking out over the city—by far my favorite part of the prescribed cycle.
RELATED: Tips on How to Raise Your Spa Menu Prices
For our next circuit, we visited the dry sauna first, followed by the converted wine barrel plunge pool. To wrap it all up, we headed for the massive pool in the gardens, where we couldn't stop talking about our collective love for the Nordic spa experience. It was the perfect way to conclude my time at Bota Bota, as I got to marvel at how seamlessly the place caters to each guest—whether they seek peace and serenity or something more social. Even with a steel walkway partitioning off the quiet areas, both sides of the spa still felt very much connected. It's a true urban oasis offering the best of both worlds.
Year Opened: 2010.
Owners: Geneviève and Daniel Emond.
The Space: 45,000 square feet with 25 treatment rooms, 6 manicure and 6 pedicure stations, 6 terraces, 5 decks, 5 cold showers, 3 cold baths, 4 Finnish saunas, 3 whirlpool baths, 2 steam rooms, 1 pool, 4 relaxation rooms, a garden and a restaurant.
Staff: 100 front desk and customer service, 100 massage therapists, 10 estheticians, 15 restaurant staff, 15 technical operations.
Most Popular Treatment: Lomi-Lomi Nui Massage (60 min./$80; 90 min./$110).
Products Used/Retail: Artistic Nail Design, Babor, Éminence, SpaRitual.
–by Lola Augustine Brown
[Images: Courtesy of Marie-Rene Mattera, Charles Briand, Corrine Fortier,