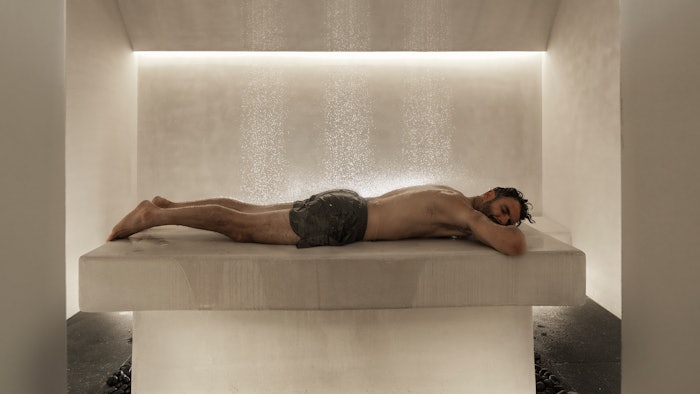 Courtesy of Magma Resort Santorini
Lava Spa at Magma Resort Santorini is known for celebrating earthly elements and incorporating them into its treatments. Set among centuries-old lava slopes and surrounded by ancient volcanoes, the property also overlooks the Aegean sea and Anafi Island.
The subterranean Lava Spa is 4,600 square feet and features a calming indoor pool and indulgent treatments that incorporate the elements. Four standout treatments include:
Sea Breeze: A regenerating sea foam massage and calming mask instantly soothes and relieves irritated, dry skin.
Aegean Blue: This cutting-edge slimming treatment is powered by five different kinds of algae, which stimulate lipolysis and reduce the storage of fat. The massage and wrap with seaweed jam tones and softens the skin and delivers a pleasant sea scent.
Magma Shells Massage: A healing massage with real shells that manifest natural calcium ions, which are transported directly to the skin through the heat. It eliminates muscle tension, calms the nervous system and enhances blood and lymph circulation.
Vichy Shower Body Treatments: A unique experience, exfoliation in the Vichy Shower combines warm, fine rain that gently flows onto the body over areas where tension accumulates, providing feelings of deep relaxation, serenity and well-being.