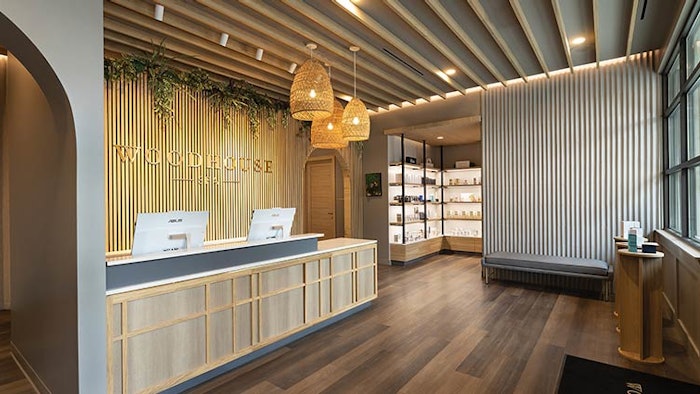 Over the last few years, wellness-focused design has grown in popularity. Whether it's the build of a new home or even a commercial building, the design industry has been experimenting with an approach that increases productivity, morale and teamwork through comfortable spaces. In spa spaces, it's even more important to consider proper lighting and incorporating the elements of air and water. Spas are a sanctuary for guests to get away and take care of themselves.
Self-care is currently at the forefront of everyone's minds. So, while creating the new design for Woodhouse Spas, guests' mood and well-being was something we couldn't ignore. The guest journey identified the proper layout to not only maximize the spa space but to identify the design elements needed that focuses on the well-being of guests and spa professionals through color, lighting, sound and texture.
First Impressions
The reception area within a Woodhouse Spa is kept simple and elegant, with cool tones of gray on the walls and warm wood tones from the wood floors, ceiling beams, front desk and wood slat wall behind the desk. Gray tones were specifically selected to create a sense of neutrality and balance. Flanking the desk, stand brass arches lead to the hallway, with a pop greenery above the front desk credenza.
A moss wall provides warmth and a pop of color to the space, while delivering that feeling of wellness from nature. Integrating a tiled wall also adds texture and functions as a welcoming draw into the retail area. This space is well-lit with floor-to-ceiling shelving to showcase the spa's products available for guests, encouraging them to take their journey home following their treatments.
Continue Reading our Digital Magazine to learn more about Woodhouse Spas' Tranquil Design...
Sarah Moore is the vice president of brand and marketing for Woodhouse Spas. She holds more than 13 years of experience in the hospitality and franchising industries. Moore has successfully marketed and repositioned nine hotel brands consisting of more than 1,300 properties during her career.
David Krom, director of construction for Woodhouse Spas, has more than 18 years of facilities and construction management experience. His expertise spans tasks like accelerating project schedules, reducing costs and improving practices while providing the highest level of quality from himself and his team. He is an extremely motivating team leader with an entrepreneurial drive.