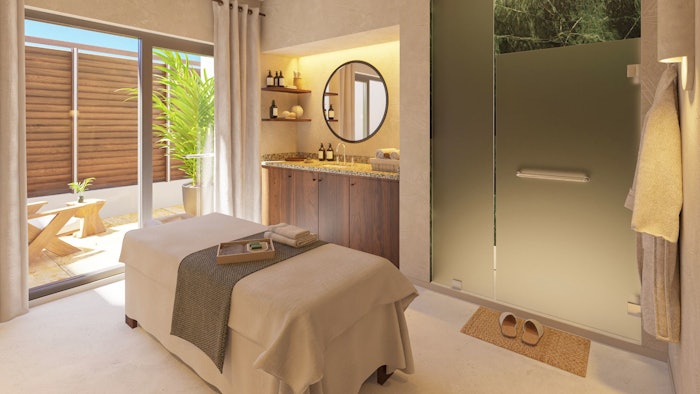 Photo Courtesy of Fairmont Mayakoba
Fairmont Mayakoba in Quintana Roo, Mexico, has started renovations of its spa, adding a new contemporary design with natural elements that harmonize with the surroundings of Mayakoba. In addition, the new spa will introduce many features in its state-of-the-art facilities, including a botanical garden and quartz sand massage bed. During the renovation period, guests can still indulge in the spa experiences on the 4th floor of the Bambu Building.
Related: Mii amo Debuts $40M Wellness-Focused Renovations & Spa Programming
Every aspect of the new spa's design is thoughtfully curated to inspire serenity and uses locally sourced stone and wood materials to create a seamless connection between the interior and the natural environment. It also features large windows in soft natural light, illuminating lush indoor gardens and enhancing the sense of tranquility.
To honor Mayan tradition, Fairmont Mayakoba will reveal its Temazcal as part of the transformation. The heated dome allows guests to connect with nature and embark on a spiritual journey of holistic purification and renewal with rituals led by a shaman. A brand new botanical garden will allow guests to select herbs for their treatment while learning about the benefits to their bodies.
The new salon will be the largest in the intimate gated community of luxury resorts in Mayakoba, providing a space of utmost comfort and indulgence for Fairmont Mayakoba's esteemed guests, according to the resort.
The quartz sand massage bed is designed so that the practitioner's movements combine with the constant micro-massage of every single grain of quartz which brings a pleasant sensation of heat and relaxation throughout the body. The tilting movement features a 7-degree inclination that improves blood circulation and the overall result of treatment.
"We are delighted to share a first look at our spa transformation and to commence the final phase of our extensive multi-million-dollar property enhancements," said Jacco van Teeffelen, general manager of Fairmont Mayakoba. "With the completion of the spa this winter, the new Fairmont Mayakoba offers a truly well-rounded guest experience in wellness, culture, luxury, and beyond."