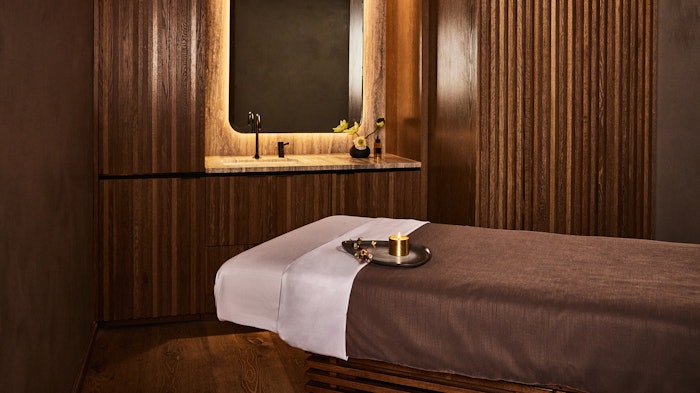 Photo courtesy of The Conrad Spa
Los Angeles is the home of luxury spa offerings, and we think you and your clients should add these destinations to your radar. These dreamy properties have added innovative wellness services worth checking out, per an article by Secret Los Angeles. Whether it's Quantum harmonic therapy at the Conrad Spa or a flotation chamber session at IntoMeSea, here's the spa's you should know. 
1. Den Mother
Den Mother offers guests a sanctuary filled with greenery and tranquility to escape in the hustle and bustle of L.A. The spa location offers many treatments that include full-body massage options to therapeutic body services. Guests also have the option of enjoying a brew in the tea room and ordering bites from the plant-based California Izakaya (a Japanese bar).
2. Conrad Spa
The Conrad Spa has been transformed from a traditional spa into a more meaningful guest experience with a boundary-free wellness concept. Guests can explore wellness through a variety of tailored, Ayurvedic and innovative treatments. Spa-goers will receive a wide range of services that combine emerging technologies with modern techniques. Treatment examples include Quantum harmonic therapy, Normatec compression therapy or a infrared recovery mat session. 
Related: 5 New Spas Offering Sound Therapy, Manifestation & More in New York
3. IntoMeSea
IntoMeSea is a healing studio that incorporates therapies from around the world, particularly floatation meditation. The three private suites feature floatation tanks filled with skin temperature, Epsom salt-rich water. IntoMeSea's available floatation therapies focus on Float, Soak, Light, Energy, Salt, Sweat and Flow. Guests can also experience chakra alignment or a soak in a giant quartz crystal tub.
4. Maybourne Beverly Hills
The Maybourne Beverly Hills invites guests to enjoy the benefits of a magnesium-infused mineral pool, as well as holistic treatments, nerve point therapy, facials, lymphatic drainage and more. 
5. Tomoko Spa 
This Japanese-style spa embodies Japanese aesthetics with an understated, clean and simple design that results in a calm, comforting space ideal for relaxation. Aside from its traditional Japanese roots, Tomoko Spa's main draw is its stand-alone suites, each of which contains a shower, bamboo soaking tub, cozy seating, and one or two treatment tables, allowing guests to enjoy total privacy.