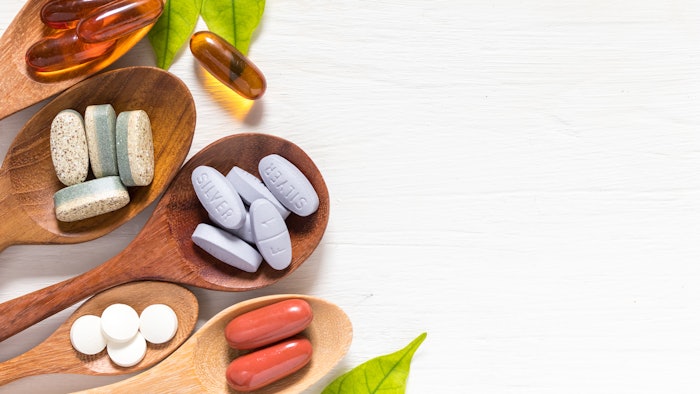 Online fitness resource Total Shape analyzed Google searches for 193 vitamins and supplements and found that ashwagandha is the most commonly searched supplement in America, receiving more than 900,000 combined searches each month. Creatine was the second most popular supplement, with magnesium, melatonin and vitamin D rounding out the top five, respectively. 
To populate the result, Total Shape combined four search variations for each: "supplement name," "what is supplement name," "buy supplement name" and "supplement name supplement." 
Used for its stress-reducing properties, ashwagandha is believed to help moderate the body's stress response system to lower the stress hormone cortisol. The herb, commonly grown in India, the Middle East and parts of Africa, is currently the second best-selling herbal supplement on Amazon, according to the report. It has a strong following on social media with Tik Tok videos tagged with #ashwagandha receiving more than 305 million views in the past year.
Creatine was found to be the second most popular supplement, receiving more than 770,292 average monthly searches across America each month. Creatine is the best-selling amino acid supplement on Amazon, according to Total Shape.
Magnesium received more than 511,588 searches each month. Magnesium is an essential mineral that plays a vital role in energy production, protein formation, and genetic maintenance. Magnesium, the best-selling mineral supplement on Amazon, is naturally present in many foods, such as almonds, spinach, whole grains and legumes.
Melatonin received more than 455,202 searches each month in the United States. Melatonin is not typically obtained from food in significant amounts, but foods like cherries, almonds and bananas are believed to boost melatonin levels.
Vitamin D rounded out the top five with more than 373,200 average monthly searches. Vitamin D is required by the body to absorb calcium, regulate cell growth, as well as supporting immune function. Most people can produce the necessary amount of Vitamin D with 10-25 minutes of daily sunlight or through foods such as oily fish, red meat, liver or egg yolks.
Related: 2023's Top Trending Spa Treatments and Experiences
Top 20 Most Searched Supplements in the United States:
Ashwagandha: 919,742
Creatine: 770,292
Magnesium: 511,588
Melatonin 455,202
Vitamin D: 373,200
Probiotics: 341,083
Collagen: 310,763
Berberine: 283,593
Vitamin B12: 276,381
Potassium: 250,973
Hyaluronic Acid: 244,889
MSM: 237,771
Biotin: 213,379
Folic Acid: 207,768
Iron: 203,727
Amino Acids: 195,190
Vitamin C: 182,083
Fiber: 177,098
Saw Palmetto: 176,233
Niacin: 175,649