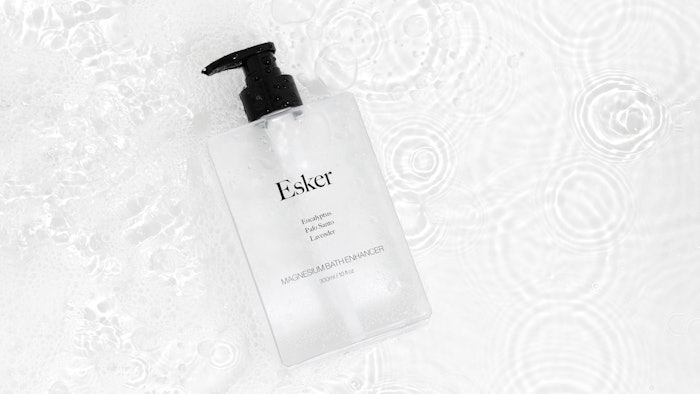 Photo courtesy of Esker
Esker launched the Magnesium Bath Enhance, a concentrated salt soak solution that dissolves easily into hot or cold water.
This potent epsom and sea salt based elixir adds wellness benefits to any soak including detoxification, increased circulation, muscle relief, mineral rebalancing skin softening. Naturally found in epsom, magnesium is absorbed dermally with the help of naturally occurring terpenes that help with penetration. 
Related: Trend Watch: Flotation Therapy
The Magnesium Bath Enhancer is infused with an all-natural, uplifting blend of eucalyptus, Palo Santo and lavender to sooth the mind and body. The product's liquid form makes it ideal for use in cold plunges or ice baths.
Adding the enhancer to a bath offers a wide range of benefits including anti-inflammatory relief, muscle or injury relief and increased blood circulation.