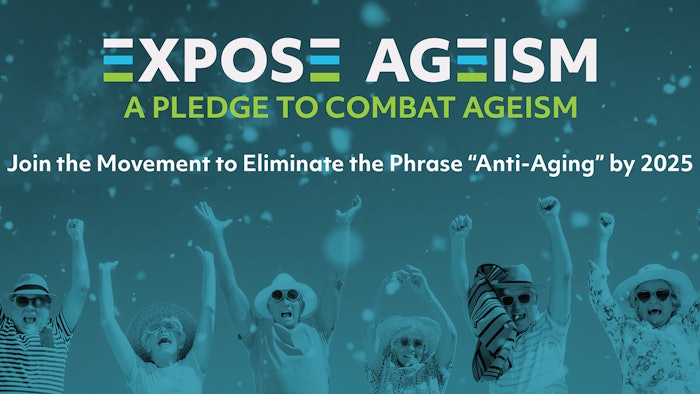 Photo courtesy of #ExposeAgeism
Nancy Griffin, the host of the Glowing Older podcast, announced the launch of #ExposeAgeism, a movement to create awareness about ageism in the spa, wellness and beauty industries. 
A dozen companies from the around the world have taken the pledge to promote positive aging. Efforts include representation of older adults in Diversity, Equity, and Inclusion (DEI) programs, and eliminating the phrase "anti-aging" in product descriptions and marketing by 2025. 
The founding companies include: Ayuna, Beauty for Real, Beauty Heros, Beekman 1802, Better Not Younger, Body Bliss, Brand Uncover, LaFlore Live Probiotic Skincare, Pietro Simone Skincare, Skin Authority, Spa Technologies and Stemulation.
Related: The Attitude of Aging
"As host of the Glowing Older podcast, I have interviewed 130 experts who agree ageism is one of the biggest issues standing in the way of aging well. The founding companies immediately resonated with #ExposeAgeism's mission, responding with comments like, 'It's about time," and "We can do better," said Griffin, who has 30 years of experience in the spa and wellness industry.
#ExposeAgeism targets the phrase "anti-aging" in particular for its contribution to negative perceptions of growing older. With the goal of eliminating the phrase by 2025, companies are able to take steps to change packaging and marketing materials in stages.