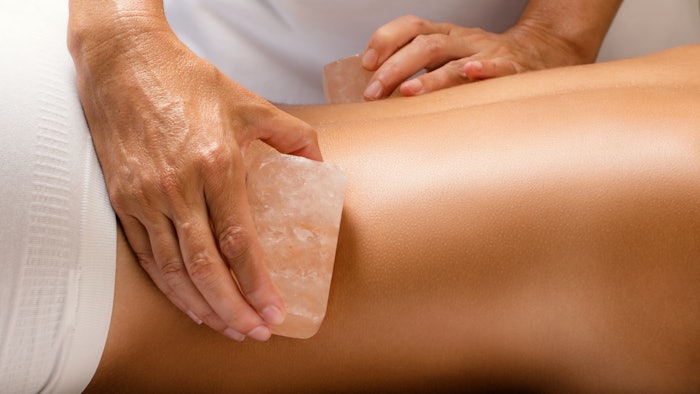 Saltability and Massage Envy have announced that the Restore Himalayan Salt Stone Massage treatments will be available nationwide at local Massage Envy Spas. Saltability's award-winning Himalayan Salt Stone Massage offers an eco-friendly alternative to traditional basalt stone massage.
The treatment utilizes pure Himalayan salt stones with up to 84 naturally occurring minerals and elements that are warmed with LED lighting. The salt stones add multiple benefits including easing muscle tension, stimulating circulation, detoxification and gentle skin exfoliation.
Related: 3 Full Salt Treatment Protocols to Detoxify Skin
Massage Envy clients who choose the Saltability Restore Himalayan Salt Stone Massage will receive a comprehensive body massage that employs the warm salt stones carved sustainably from the pristine Himalayan Mountains.
Following a successful test run in South Florida, Massage Envy franchise owners are ready to expand the treatments, and the group recognized the Himalayan Salt Stone Massage as their top innovation of the year at the Massage Envy conference held earlier this year.
"We are thrilled to see the response we have so far from Massage Envy franchise owners and massage clients," said Saltability founder and CEO Ann Brown. "This national rollout will enhance the therapeutic experience for clients nationwide, while also adding benefits for Massage Envy therapists and contributing to a more eco-friendly footprint."