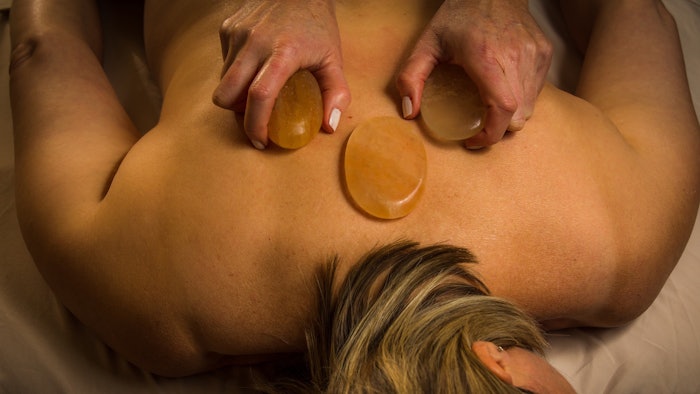 Photo courtesy of Saltability & Massage Envy
Saltability and Massage Envy Spas have launched a pilot test program in the South Florida area for Saltability's Restore Himalayan Salt Stone Massage treatments. Approximately 40 Massage Envy Spas in Miami have added Saltability's Himalayan Salt Stone massage to their menus.  
The Himalayan Salt Stone Massage uses no water and is chemical free, making it a more therapeutic alternative to traditional stone massage with basalt stones. Gently heated with a U.S. engineered warmer and energy conservative LED lighting, Saltability's 100% pure Himalayan salt stones contain up to 84 naturally occurring minerals and elements, known for stimulating circulation, detoxifying, light exfoliating the skin and calming the nervous system and sore muscles. 
Related: Beyond Stone Massage: 5 Ways to Incorporate Himalayan Salt
"We have designed our salt stone massage to bring benefits to both therapists and clients alike," said Ann Brown, Saltability founder and chief executive officer. "We anticipate that this pilot program will serve to boost profitability for Massage Envy owners while providing guests with a highly restorative experience and one that lessons the stress on therapists' hands, wrists and elbows." 
The Himalayan salt stone massage offers additional key benefits that differentiate it from traditional stone treatments, as it replenishes and nourishes the body with minerals while alkalizing the skin. The Himalayan salt stones also have a calming effect on the body being the same frequency as the Earth (8HZ).