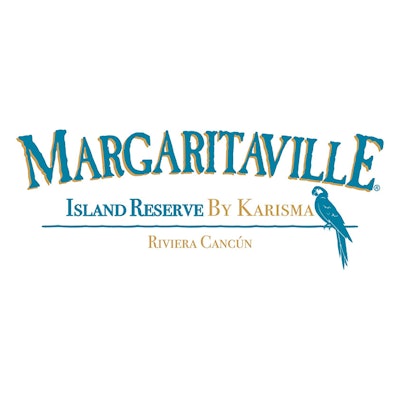 Margarit­aville Island Reserve is a laid-back, all-inclusive resort with 148 guestrooms and amenities including customized in-room bars, oceanfront and swim-up rooms, daily live entertainment and daily physical activities. Nightly rates cover all food options, premium drinks and 24-hour room service. The reserve also includes St. Somewhere Spa, an 8,000-square-foot spa with a full-service salon.
"We're thrilled to introduce our unmatched atmosphere to travelers looking to escape to the coastline of Mexico for a no worries vacation and are confident our first, new Margarit­aville Island Reserve will become a preferred destination," said John Cohlan, CEO of Margarit­aville. "We partnered with Karisma Hotels & Resorts to launch our first resort in Mexico because of the company's outstanding reputation for creating and managing award-winning all-inclusive properties with exceptional food and beverage programs and best in class guest service and cleanliness standards, among other amenities and offerings essential to the Margarit­aville experience."
In the face of the COVID-19 pandemic, health and safety have become more of a priority. The Margarit­aville Island Reserve Riviera Cancun has implemented a program that is committed to the health and safety of all those staying and working on the resort property. This program includes deep cleaning, contactless room service options, temperature monitoring, social distancing in high traffic public areas and more.