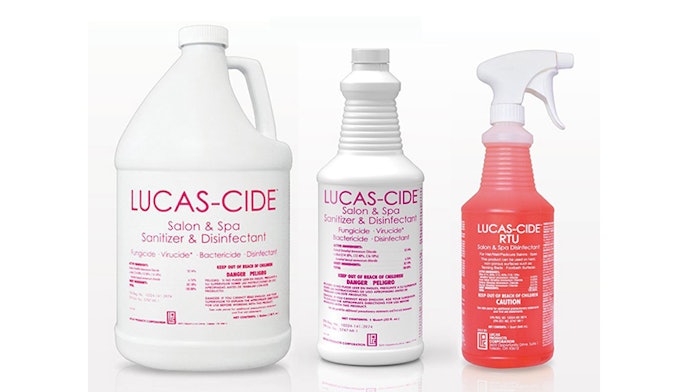 Global spa industry supplier Qosmedix has launched LUCAS-CIDE by Lucas Products in an effort to fulfill the demand for more stringent sanitation practices in spas and salons. The new disinfectants meet EPA criteria for use against SARS-COV-2, the virus that causes COVID-19.
The LUCAS-CIDE line kills 99.9% of bacteria, viruses and fungus in 60 seconds, with a 100% kill rate in 10 minutes. The products are EPA registered and hospital grade, and are ideal for use on nail implements, pedicure spas, combs, shears, massage tables and any other hard, non-porous surface.
Learn more at qosmedix.com.
About Qosmedix: Qosmedix is an ISO 9001, ISO 14001 certified global supplier to the cosmetic, skincare, spa and salon industries. Founded with the goal of maintaining hygienic practices during beauty consultations, the company provides an array of products that offer convenience and value to its customers, with inventory including brushes, swabs, applicators, disposable spa wear, jars, bottles and more. Qosmedix is a division of Qosina, a leading international supplier of components to the medical and pharmaceutical industries.