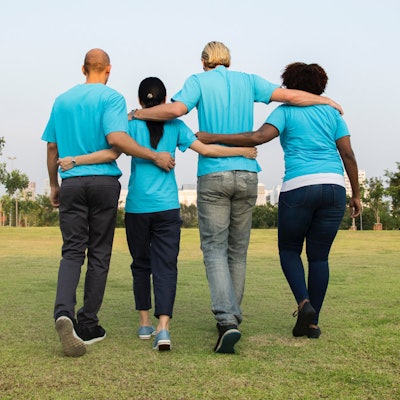 CIDESCO International is coordinating its membership represented in over 40 countries across 5 continents, to participate in a mammoth step challenge for Global Wellness Day (GWD) on June  8th, 2019.
CIDESCO will be aiming to achieve an overall goal of 500,000 steps with each participant walking at least 5,000 steps. CIDESCO members as wide-spread as the USA, Australia, Europe, India, China and Japan will be coming together to enhance their own wellbeing and set an example to others by following the GWD manifesto of living well. The walking challenge is part of GWD's seven step manifesto.
RELATED: CIDESCO USA Offers Advanced Education at IECSC
For the member who walks the most steps, CIDESCO will be rewarding them with a Wellbeing Goody Bag full of fantastic products from their CIDESCO Associates including leading product houses Biologique Recherche, Decaar Cosmetics, Ilcsi, Kerstin Florian, VOYA and many more.
CIDESCO members will be sharing their experiences of the challenge across all social media channels on Global Wellness Day by posting a 'selfie' with an APP showing steps taking on June  8th, using the hashtags #CIDESCOGWD.
RELATED: CIDESCO Supports Ban on Glitter Containing Microplastics
Announcing the Mammoth Step Challenge, CIDESCO International President, Anna-Cari Gund says "We all take our health for granted until sometimes it's too late. Global Wellness Day reminds us all to look at the way we are living and to take some simple 'steps' to change it for the better. By bringing the membership together on this important day, we can really drive the message home on an international level. We are looking forward to a very rewarding and enjoyable day."
About Global Wellness Day: First celebrated in 2012, Global Wellness Day was established in Turkey as the "first" day dedicated to living well, and has now been accepted worldwide. Reflecting its success, in 2018 Global Wellness Day has been celebrated simultaneously in 130 countries at 5000 different locations with different events ranging from the GWD flag reaching the summit of Mt. Everest to giving medical care to children at the Thailand and Myanmar border and visiting elderly people's home in Brazil. Global Wellness Day will be celebrated on Saturday, June 8th, 2019 in more than 130 countries at 5000 different locations.