The two companies have teamed up to launch Sonäge's new professional masks and detox stem cell facial. 
Take Care Centers for Body Mind Rejuvenation in New York City and Los Angeles has partnered with Sonäge Skin Care, one of the leading natural skincare company's serving spas and independent estheticians, to launch two new professional masks and a detox stem cell facial treatment for anti-aging and instant glow. Ideal for spring renewal, the colorful and fragrant botanical masks and rejuvenating facial create a complete sensory experience, with instant results visible immediately upon leaving the spa. The facial will be introduced at Take Care's client appreciation event February 8-9 at the Los Angeles location.
Take Care and Sonäge share similar philosophies on the use of clean products that produce results. The new professional-only  Pom Crush detox enzyme mask and patagonia berry stem cell mask are toxic free-strictly formulated to cause no harm to humans or the environment.
"We are excited to launch Sonäge's new Detox Stem Cell facial in Take Care's New York and Los Angeles locations. The new facial fulfills our clients desire for instant gratification with the addition benefit of clean and natural ingredients proven to be free of toxins and artificial ingredients," says Take Care founder Sadie Adams, a sought after holistic healer.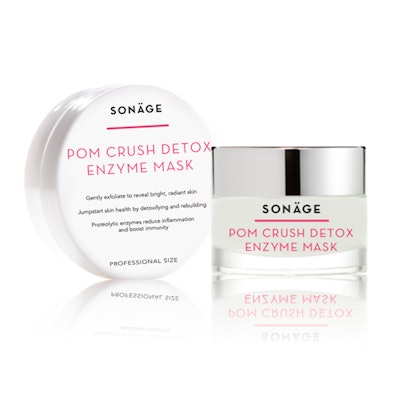 Detox Stem Cell Facial Treatment
The luxurious power-packed Detox Stem Cell Facial treatment restores younger, rejuvenated skin in just one treatment. Featuring the latest in plant stem cell technology, the treatment reduces fine lines, wrinkles while minimizing pores. Skin is left polished, brighter, hydrated and nourished.
After a hydrating cleanse, skin is exfoliated with gommage exfoliating gel. Next the pom crush enzyme detox mask is applied, containing six fruit enzymes from pomegranate, pumpkin, pineapple, papaya, figs and astaxanthin to exfoliate, reduce inflammation and boost immunity.
Pom Crush Detox Enzyme Mask
This mask jumpstarts skin health by detoxifying and rebuilding all skin types. Six natural, potent fruit enzymes work harmoniously together to gently hold onto and remove dead cells, while helping hydrolysis turn proteins into peptides and amino acids. Containing Proteolytic Enzymes that reduce inflammation and boost immunity, this gently exfoliating masks encourages cell renewal and preps the skin for optimal product penetration.
Patagonia Berry Stem Cell Mask
The superpower ingredient in this mask is patagonian maqui berry, a potent antioxidant that increases cell turnover and reduces fine lines. Maqui berries are the fruit of an evergreen shrub (aristotelia chilensis) growing throughout the pristine Patagonian mountain region of Southern Chile. Also contains marble-berry and passionflower to repair damage, reduce fine lines and hydrate all skin types. Also includes oxygenating spin trap: a nitrogen complex that synchronizes the movement of free radicals.
"Our estheticians and spa owners are loving our new masks and facial treatments. Their clients no longer have to choose between results and natural products," says Anisha Khanna, CEO of Sonäge. "The products luxury feel and uplifting, berry scent create a full-service spa environment in any treatment room."