Spa Adolphus is billed as Dallas' newest urban oasis in the heart of downtown.
The Adolphus has announced the grand opening of Spa Adolphus, a brand-new, 5,000-square-foot luxury spa and salon that adds a vibrant and thoughtful experience to the original address for timeless Dallas hospitality.
The latest addition to The Adolphus's continuing evolution, Spa Adolphus provides an urban retreat within the city. The spa features six treatment rooms, indoor and outdoor relaxation lounges, a couples' room with a private terrace featuring spectacular downtown Dallas views, and a large fitness facility. The spa showcases a unique partnership with New York City-based beauty wellness brand Red Flower, including the first-ever incarnation of the Red Flower Perfume Bar with a Wellness Twist, created exclusively for Spa Adolphus.
"Spa Adolphus offers a fresh, compelling and thoughtfully crafted experience," said Laura Lambert, spa director. "Our goal is to deliver a warm and memorable experience to every guest. We're excited to partner with Red Flower on our signature treatments that feature body and skin care products focused on well-being and inspired by the abundance and purity found in nature."
The Red Flower Perfume Bar with a Wellness Twist offers the healing power of herbal medicine combined with the opulence of a Parisian perfume bar to deliver a ceremony that fills all of the senses. Guests are taken on a personalized sensory journey of aroma and well-being that translates from their arrival into the treatment room. Featuring an interactive aromatherapy display of whole essential oil blends—including Spanish Gardenia, Moroccan Rose, Icelandic Moonflower and Spa Adolphus's signature scent, French Lavender—each is designed to deliver a specific health benefit and is paired with acupressure techniques during massage treatments that deliver a rush of wellness. Spa guests that choose The Signature massage can take home their experience through a complimentary vial of their chosen scent along with guided acupressure tips for on-the-go wellness.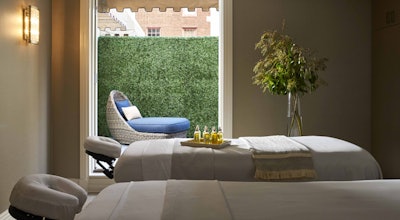 "We're thrilled to partner with the revitalized Adolphus," said Yael Alkalay, founder and CEO of Red Flower. "Now at the vibrant center of Dallas culture and style, The Adolphus is the destination for every important happening, from the most memorable gathering to a transformative wellness experience. From exclusive Red Flower French Lavender in-room amenities and signature therapeutic spa treatments to a one-of-a-kind Perfume Bar with a Wellness Twist, the offerings at The Adolphus show guests they are thoughtfully cared for. Traveling healthfully and finding true pleasure in every stay is the definition of modern luxury, which is so flawlessly executed at The Adolphus."
Additional therapeutic treatments include the Red Flower Energizing Japanesque Ritual, which releases the flow of vital life force through the body. A six-part ritual that includes a full body exfoliation with warming ginger grass and bamboo to polish the skin and improve circulation, organic rice bran scented with cherry blossoms to release muscle tension, and a balancing facial massage with rose, aloe, and avocado to even skin tone and promote the production of collagen.
Performance treatments include the Face Lift Optimizer from Natura Bissé, which relaxes, rejuvenates, and leaves facial skin remarkably smooth via Octamioxyl and a sono-lifting tuning fork technique. The 30 minute Carboxi Express Facial treatment regenerates the skin's surface using carboxytherapy to deliver maximum luminosity, fight the signs of aging and produce visibly rejuvenated skin.
 A full-service salon offers nail, hair, and beauty services, allowing brides, grooms and their entire wedding party to create customized experiences to make their Dallas wedding an event to remember.