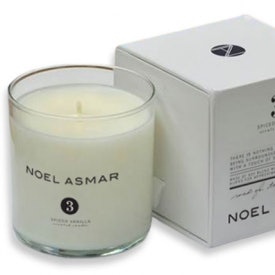 Recently, the well known professional uniform brand Noel Asmar announced that it would be launching a new line of runway-inspired uniforms, as well as an all new candle collection. According to designer and CEO, Noel Asmar, the brand's mission is to "develop experiences that make life a little nicer," and both the new spa uniforms and the beautifully designed candle line are attempts to achieve this.
Noel Asmar is known for crafting professional uniforms that are "made for the way you move." Their most recent addition to their collection of high quality, stylish spa uniforms includes four new styles that "push the limits of the spa uniform with innovative fabrics, features and elegant design that elevate the spa experience for the service provider, and the spa itself, and those receiving the treatment." Among these stylish elements, the new line will feature exposed zippers, tuxedo-like silhouettes, bell sleeves, mixed media and new fabrics specifically designed for functionality. Furthermore, the four new styles employ the use of side panels to allow for stretch and breathability, as well as slits and pleats that allow a greater amount of mobility. These practical innovations, as well as the fact that the uniforms are all Antibacterial, odor resistant, hygienic, non-toxic, and fast-drying, coupled with the stylish aspects of the uniforms' new design, results in a line of spa uniforms that are top-of-the line in both fashion and function.
In addition to the new line of spa uniforms, Noel Asmar is launching a set of four, all new candles to further enhance the spa experience for professionals and clients alike. The collection, which features beautiful, minimalist design elements and elegant labeling for a sophisticated feel, will include four new candle scents, including Sugar Coated Lemon, Sandalwood Jasmine & Vanilla, Spiced Vanilla, and Tobacco Vanilla. According to Noel, these four scents are designed to induce relaxation and comfort, and invoke everything from fresh, clear thoughts, to "long, leisurely horse rides down a tree-lined path." Each candle burns for approximately 70 hours, and is made from a blend of soy wax with a 100% cotton wick.
To see the Noel Asmar Uniforms Lookbook, please visit http://noelasmaruniforms.com/uniforms_en/nau-lookbook
To see the new candle collection, please visit noelasmaruniforms.com
[Images courtesy of Noel Asmar]