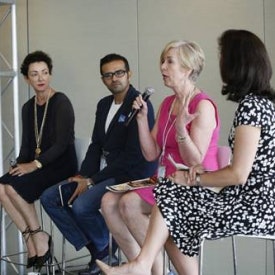 Jane Wurwand, Founder and Chief Visionary at Dermalogica and its philanthropic women's initiative, FITE, participated on a panel that spoke upon women's financial independence. The panel, which was moderated by Rana Foroohar, Assistant Managing Editor, TIME Magazine, was joined by other notable speakers including Kristin Hetle, Director, Strategic Partnerships, UN Women and Ashish Thakkar Founder and Managing Director, Mara Group.
"We have an obligation to embed our business consciousness with a sense of social responsibility which provides women with economic opportunities," said Wurwand. "In order for world economies and countries GDP to thrive, women must thrive. Providing economic opportunities to women isn't just a woman's issue—it is a human rights issue."
The mission of the 2014 Global Accelerator Conference was to bring together a select group of entrepreneurs and high-level UN officials to find scalable solutions to some of the world's most pressing challenges, and drive progress on Millennium Development Goals (MDGs) to alleviate poverty and save lives.
The 2014 Global Accelerator Conference brought together luminaries in media, technology and public policy, including Arianna Huffington, Chair, President, and Editor-in-Chief of the Huffington Post Media Group, Elizabeth Gore, Entrepreneur-in-Residence, United Nations Foundation and Kathy Calvin, President and CEO, United Nations Foundation.
For more information on Dermalogica and its philanthropic initiative, FITE, please visit www.joinFITE.org. For more information on the 2014 Global Accelerator Conference, please visit www.globalaccelerator.org.