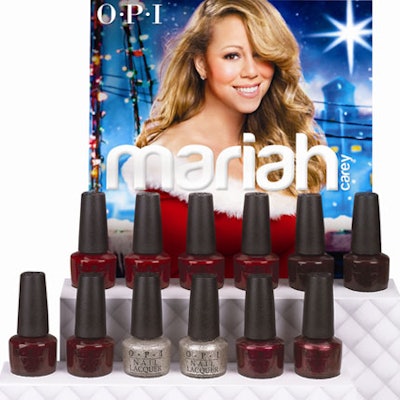 Recently, the well-known nail polish brand, OPI, announced a new collaboration with renowned recording artist and international superstar, Mariah Carey. This season, OPI will be launching a brand new line of limited-edition, Mariah-inspired holiday nail lacquers, dubbed, Mariah Carey Holiday. This seasonal promotion includes an assortment of brilliant red, warm burgundy, deep maroon and lush, chocolate brown hues, along with an array of glittery gold, bronze and pearl shades. Mariah Carey Holiday also features six new Liquid Sand™ lacquers, ranging from icy blue to frosted pink to sparkling graphite. Each of these unique Liquid Sand™ shades showcases OPI's groundbreaking technology for a textured, matte finish infused with reflective sparkle.
In total, the new line will include 18 beautiful nail lacquers, perfect for every moment of the holiday season. Among these festive shades are colors such as "Underneath the Mistletoe," a spicy-sweet, candy-apple red, "Warm Me Up," a rich, warm coffee color, "It's Frosty Outside," a sleek, wintery silver and "Wondrous Star," a shimmer polish with flecks of gold.
"Mariah Carey is truly synonymous with the holiday season," says Suzi Weiss-Fischmann, OPI Executive VP & Artistic Director. "People around the world listen to her festive, iconic songs – 'All I Want for Christmas is You' is a personal favorite – and these 18 lacquers evoke the warmth, beauty, energy and positive spirit that's present in Mariah's music.
Mariah Carey Holiday by OPI places a heavy emphasis on the season's hottest nail trends, "red, glitter and texture for nails," according to Weiss-Fischmann. "The 12 crème and glitter lacquers include classic reds, champagne gold, and warm burgundies, while the six Liquid Sand shades should be worn without top coat for a matte finish in icy, frosted colors."
Mariah Carey Holiday nail lacquer shades each feature OPI's exclusive ProWide™ Brush for the ultimate in application. Liquid Sand nail lacquers should always be worn without top coat. The seasonal line will be available October 2013, at Professional Salons, including Beauty Brands, Beauty First, Chatters, Dillard's, JCP Salons, Pure Beauty, Regis, Trade Secret, and ULTA.
For more information, please call 800-341-9999 or visit www.opi.com
[Image courtesy of Harris Shepard Public Relations, Inc.]