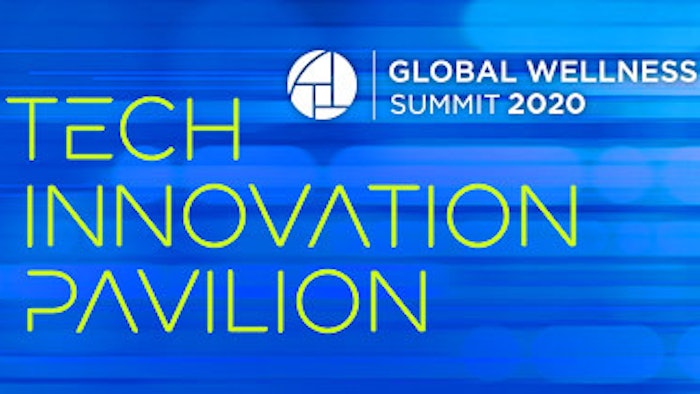 Courtesy of the Global Wellness Summit
The Global Wellness Summit (GWS) announced that a "Call for Wellness Innovations" contest and a dedicated Tech Innovation Pavilion will be unveiled at this year's event being held November 8-11, 2020 at The Breakers in Palm Beach, Florida.
The contest calls on all companies within the wellness technology space to submit their innovative idea, and it will be judged by a prestigious group of international CEOs, business leaders and VCs in the wellness space. The winner will then present their concept to delegates at the GWS, culminating in the awarding of the first Global Wellness Summit Prize.
Contest applications will first be screened by Welltech1's advisory board and founders, then semifinalists will present to the judging panel made up of international executives and VCs on virtual Demo Days (October 15 and 22). Lastly, the winner will be flown to the conference to present in front of delegates from around the world on the main stage,  and be the subject of global media promotion. On Tuesday, November 10, the Global Wellness Summit Prize will be presented on stage at the conference.
The judges of the contest are:
Amir Alroy, cofounder of Welltech1, the first Israeli wellness innovation fund and hub specializing in wellness technologies.
Anna Bjurstam, wellness pioneer at Six Senses, responsible for all wellness innovation and development at the brand's 46 resorts and spas across 21 countries.
Craig Cogut, founder, chairman and CEO of Pegasus Capital Advisors, a Green Climate Fund accredited private equity fund focused on sectors influenced by global resource scarcity, combating climate change and rising demands for human health and wellness.
Ivo Facianof, managing partner at MindSpring Capital and founder of Velis, a leading global online marketing and advertising solution.
Ofir Frank, CTO of Maccabi Tel Aviv BC, a world-leading sports club, responsible for building technological products and services that meet the team's needs.
Galit Horovitz, cofounder at Welltech1, with extensive experience in business development and international M&A.
Ian James, founder and CEO of The Ideation Lab, incubator and accelerator of hemp CBD and cannabinoid products for consumer and retail markets. 
Victor Koo, chairman at Heyi Holdings and cofounder of Tianren Culture, a next-generation social platform that supports social enterprises. 
Stephen Letourneau, chief brand officer of Green Light Acquisitions and Cannuka, who spearheaded the largest CBD consumer packaged goods launch in history.
Dr. BK Modi, founder and chairman of Smart Group, Singapore; chairman of Indian business conglomerate, Spice Global; who started the mobile revolution in India and was the first manufacturer of photocopiers, floppy drives and FAX machines in that nation.
Hadas Spektor, head of the Lifestyle and Wellness vertical at Facebook Israel, Facebook's business arm dedicated to supporting growth for Israel's wellness start-up ecosystem.
Laurie Racine, seasoned entrepreneur and president of Racine Strategy, an advisory focused on the intersection of social responsibility, learning, media and technology.
Paul Scialla, founder and CEO or Delos, a company merging real estate with wellness.
Josh Todd, chief marketing officer for Mindbody, the leading technology platform for the fitness, wellness and beauty industries, which serves tens of thousands of wellness businesses and tens of millions of consumers worldwide. 
In addition, the Tech Innovation Pavilion at the GWS will prominently showcase companies that have been recently devoting their energy and resources to innovate products and services in the wellness arena—whether in the start-up phase or fully established companies.
"COVID-19 has turbocharged the migration of wellness solutions online and consumer adoption of all kinds of digital wellness, and analysts agree that health and wellness technologies—whether in mental wellness or digital fitness—have now emerged as the hottest investment category," said Nancy Davis, GWS chief creative officer and executive director. "With this historic rush of creativity and investment, the 2020 Summit is putting a stake in the ground in this fascinating space, and we want to give global exposure to the companies, products and services that are re-imagining wellness through technology. It's an important moment for the GWS and the industry."