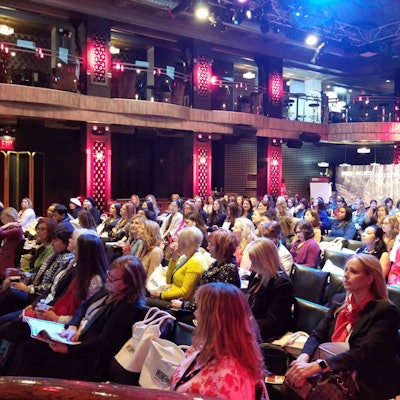 On March 12, 2019, the 2nd annual Women in Wellness Conference took place in New York City. The event was created to address topics relevant to women in the workplace as it relates to wellness, although most of the issues apply regardless of employment status.
Today Show financial editor Jean Chatzky, the morning keynote, provided frank and useful information on financial planning. Chatzky shared that money was not the key to happiness, but it is the thing that makes all of our other priorities possible! She strongly supports systems that automate financial savings, whether into savings, money market, or retirement accounts. Chatzky's new book, AgeProof, was written with Dr. Michael Roizen of the Cleveland Clinic, and provides a guide to achieving both physical and financial stability. She left us with a powerful thought: "Just because someone will lend it to you, doesn't mean you should borrow it."
RELATED: The Healing Power of Sound Therapy
After this initial keynote, the day was broken into a series of breakouts, two at a time, bookended with networking time. I sat in on a lecture from journalist and Columbia University adjunct professor Dolores Barclay, who discussed "Leading With Integrity and Purpose." Barclay shared that in a Gallup poll of trust, teachers came out at the top, while CEOs, car dealers and congresspeople were at the bottom. Businesses need to inspire trust in order to attract both employees and customers, and that behavior starts with top management. Barclay advised attendees to have an open mind, spend as much time listening as speaking, and be willing to take some criticism in order to be at our best.
Dr. Brunilda Nazario, endocrinologist and lead medical editor of WebMD, shared considerations of "Women, Health & Age." The No. 1 killer of women in the U.S. is heart disease, and often this is because there are no recognizable symptoms. She stressed the importance of self-care through many of the obvious methods, including healthy diet, moderate exercise and getting enough sleep, but she also highlighted loneliness and its connection to heart health. In fact, 20 percent of Americans meet the definition of loneliness, and it has an amazing impact on life expectancy and health. Tribes are important!
RELATED: Global Wellness Institute Reports Wellness Now a $4.2 Trillion Global Industry
Other breakout speakers included Betty Ng, who discussed diversity in the workplace; Claire Wasserman, founder of Ladies Get Paid, who shared valuable advice about letting go of perfectionism and avoiding burnout; Elizabeth Scherle, cofounder of review site Influenster, who encouraged us to take risks; and editorial director of Considerable Diane Harris, with practical tips on money management.
The closing keynote was delivered by Carrie Kerpen, cofounder and CEO of Likeable Media. Kerpen talked about her journey as an entrepreneur, and shared valuable insight on using our network, inner strength and gut instincts (aka our female superpowers). After Callaghan's closing remarks, attendees enjoyed a networking cocktail party and spa services.
—by Lisa Starr