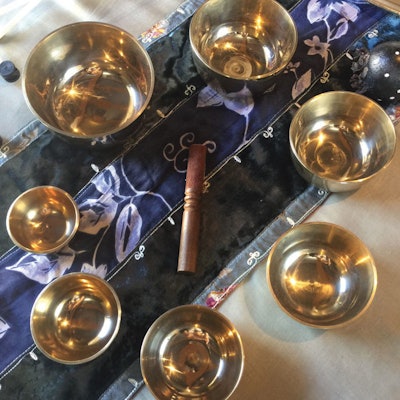 Tap into clients' inner calm with the healing power of sound therapy.
Soothing sounds are nothing new to spas. For decades, clients have relaxed to birds chirping, waves crashing and rain falling as background music to their treatments. But lately a new sound can be heard: a more visceral, vibrational tone known as sound healing or sound therapy. "It's a modality that uses sound to break patterns, change brain waves and awaken the body, mind and spirit to new possibilities," explains Pamela Lancaster, internationally recognized teacher and master sound healer for Miraval Resorts.
Led by a sound therapist, the practice uses the human voice as well as the harmonic vibrations of various instruments—tuning forks, gongs, Tibetan singing bowls, wind chimes and drums—to promote relaxation as well as recovery. "It has historically been used as a catalyst for deeper insight, wisdom, transformation and healing," notes Alessandra Montana, yoga teacher and sound therapist at Yäan Wellness Energy Spa in Tulum, Mexico, who offers sound healing training in the U.S., Mexico and Europe. Indeed, in indigenous Australian culture, the Aboriginals played the didgeridoo; vowel chanting is found in Egyptian religious practice; and Buddhists have long used the hum of Tibetan singing bowls for meditation. Today, spas are incorporating these age- old traditions into modern treatments that harness the restorative power of sound.
Sound Advice
They say that music soothes the savage beast, and sound therapy works along the same lines. Whether the therapist uses transcendental tones of Tibetan singing bowls or bathes the room in rhythmic gong pulses, sounds give clients' minds something to focus on, helping them ease into a more relaxed state. "A lot of people have a challenging time meditating," says Lancaster. "Sound can signal the body to release its own tension and negativity, dropping the brainwave into a meditative state quickly and effectively."
Studies suggest that sound can alleviate anxiety and relax brain wave patterns, but can it also heal? "When we are in a place of 'fight or flight,' cortisol, adrenaline and stress hormones rush to the body," says Lancaster. "But when we use sound therapy to move into that calm, centered state, the body brings itself back into a place of homeostasis. Things have a propensity to begin to heal."
RELATED: The Chinese Practice of Qigong Provides a Wealth of Benefits
Proponents also argue that because sound is both heard and felt, it can trigger physical and energetic responses. These range from relieving ailments to balancing emotions. "Sounds and vibrations touch deep within," says Montana. "They can penetrate our bodies to transform waves of energies and stabilize our emotions and being. If you really enter the experience, you can feel it on a molecular level." And science is starting to back these claims: Preliminary studies show that sound and vibrations can improve pain management and even help with wound healing.
Resounding Benefits
For many, knowing the advantages of sound therapy is as simple as experiencing it. "It had a transformational effect on me and I knew right away that I wanted to perform it as a practitioner," says Greg Doss, LMT, a massage and sound therapist at Spa Ojai at Ojai Valley Inn in Ojai, California. He helped create Sound Energy Therapy (50 min./$180), a combination of hands-on and sound healing that incorporates Tibetan bowls, chimes and a Native American Chumash rattle. "For me, it was a way of getting energy work on the menu and into clients' awareness," he says, adding that the feedback has been overwhelmingly positive: "They walk out of the room feeling like a million bucks."
Miraval Life in Balance Spa in Tucson, Arizona, has been offering sound healing treatments since 2004, including a Himalayan Sound Bath (45 min./$150) that uses water to amplify vibrations (sound travels differently through air and water). Guests say they experience profound states of deep relaxation and rejuvenation after such services. "I've had clients with fibromyalgia who've reported relief that lasts two to three months. Another one has a painful nerve disorder that's only alleviated when she's surrounded by the bowls," says Lancaster. "More importantly, and what I love to hear, is that there's an increased level of creativity and a greater sense of joy."
Spas don't have to offer full sound healing treatments for clients to benefit. Six Senses Spas across the globe provide a singing bowl ritual at
the beginning and end of each treatment to prepare and relax spa-goers. "We've had guests who feel it has cured their tinnitus and those who swear it has improved their sleep," says Mark Sands, corporate wellness director for Six Senses Hotels Resorts Spas.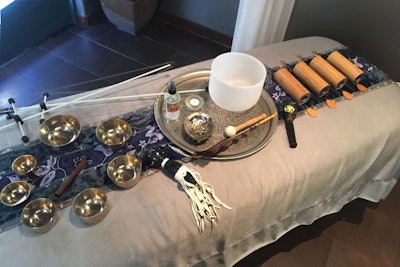 Set the Tone
Anyone who's stressed can benefit from sound healing— although pregnant women are advised to skip it (other contraindications include epilepsy, pacemakers, cerebral shunts and broken bones). The need is there, and most spas have the built-in infrastructure. "You're already providing a relaxing space, usually with background music," notes Doss. "I think we take for granted how much that sound helps clients relax and settle into a deeper healing space. Even one instrument can enhance a peaceful atmosphere, whether it's a 15-minute add-on to a massage or an outdoor full-moon sound bath, where participants 'bathe' in the sound of a gong."
RELATED: Global Wellness Institute Reports Wellness Now a $4.2 Trillion Global Industry
Perhaps the biggest obstacle is finding the right practitioner. The modality isn't well regulated, with education options ranging from weekend courses to a 200- hour certification from the Atma Buti Sound and Vibrational School in Boulder, Colorado. But even more important than qualifications may be resonance. "First try the session; vibrate and feel the intention behind their work," advises Montana, who suggests that spas can also host in-house training for existing employees.
Once the therapist is in place, equipment is typically minimal. "Tibetan bowls are a great starting point," says Doss. "The bowls serve as the foundation, and you can actually play them on and around the body." Of course, adding gongs, wind chimes and tuning forks—each with different spiritual and healing properties—adds dimension and new frequencies.
Whether clients come to the treatment table brand new or having experienced something like it, sound therapy is an easily accessible modality. There's no learning curve or downward dog to master; all participants have to do is lie back and bask in the tones for instant bliss.
Impeccable Instruments
Tibetan (Himalayan) Singing Bowls: Originally used by Tibetan monks for spiritual ceremonies, these metal dishes are believed to propel the mind into a deeper meditative state, and can be placed on the body—typically on the chakras—or nearby.
Crystal Singing Bowls: Usually made of pure quartz crystal, they are played the same way as Tibetan bowls, yet radiate a more intense sound. Different sizes project different tones, which are said to correspond to the seven chakras.
Gongs: Powerful instruments with a big sound— participants actually feel the sound waves reverberating through their bodies, which can help clear mental chatter and alleviate pain.
Drums: Used for thousands of years because of their primary rhythmic beat, the cadence helps focus attention and possibly connects us to our deeper selves.
Wind Chimes: More than ornaments, chimes transmit celestial sounds that charm the body and mind.
Tuning Forks: Invented as a way to tune instruments, tuning forks come in different sizes with different pitches. They can be used around and on the body, the latter of which is called Acutonics, a form of sound healing that applies tuning forks to acupressure points to unblock stagnant energy.
Rainsticks: These percussion instruments are traditionally made from hollowed out cactus branches filled with small pebbles or beans and, when tilted, simulate the therapeutic sound of falling rain.
–by Allison Young
This story first appeared in the January issue of Dayspa magazine. To receive the magazine, click here to subscribe.
---