This February, Miraval Arizona Resort & Spa will unveil The Retreat, the spa's newest and most private accommodations, located on the westernmost part of the resort. Overlooking the breathtaking Santa Catalina Mountains from one of the highest vistas on property, The Retreat will feature 22 beautifully-appointed suites, each with incredible views and serene outdoor patios, as well as wellness amenities and services available exclusively to Retreat guests. 
"For over 20 years, Miraval been committed to providing a serene haven for our guests to grow mentally, spiritually and emotionally," said Marc Ellin, global head of Miraval Group. "The Retreat at Miraval Arizona exemplifies our vision, offering a peaceful ambiance and exclusive experiences designed to inspire each guest to live a healthier, more mindful lifestyle."
RELATED: Industry Experts Reveal Spa Trends, Values and Challenges in 2018
Within The Retreat there will be four types of accommodations: Reflection (one-bedroom), Unity (2-bedroom), Gratitude (3-bedroom) and Solace (studio) suites. Ranging from 600-3,120 square feet, all Retreat accommodations will feature a soothing bedroom with Miraval's signature bedding, a spa bath with a free-standing soaking tub, an indoor-outdoor shower and a private patio with a hot tub and firepit. The Reflection, Unity and Gratitude suites will also offer full gourmet kitchens and dining space for eight people where private culinary programming can take place, as well as private pools and lounge areas that encourage connection for small groups traveling together.   
Award-winning interior design firm SFA Design will design the interiors of the suites, drawing inspiration from the Sonoran Desert to infuse a sophisticated, organic and luxurious aesthetic. The villas will feature an earthy color palette that complements the surrounding desert backdrop and provides a sense of calm and relaxation. Textured fabrics, wooden floors and custom furniture will make the spaces feel grounded and balanced. To show respect for the cultures and traditions of the area's Native American heritage, a custom mural by Farmboy of a Navajo sand mandala will adorn the focal wall of the dining room.
PHOTOS: Spa Profile – Miraval Life in Balance Spa, Arizona
In addition to offering the most spacious and private accommodations at Miraval Arizona, The Retreat will provide guests with special amenities and services that have never been seen before at the property. For example, guests will be treated to an exclusive in-room massage menu featuring a selection of Life in Balance Spa massage services that they can enjoy in the comfort of their own suite. Each room will also house a custom aromatherapy diffuser with scents designed to complement each guests' Miraval journey, whether they want to achieve relaxation, rejuvenation or focus, as well as an assortment of sleep enhancing amenities including a pillow menu and specialty snacks and beverages. Additionally, the suites will feature a communal canvas and journal where guests can reflect upon their experiences at Miraval and share their feelings with guests for years to come.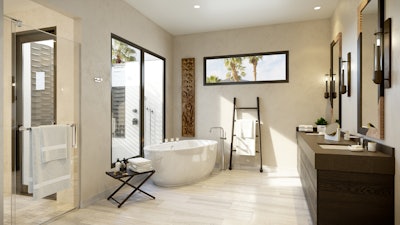 The Retreat at Miraval Arizona will feature 22 private suites and exclusive wellness amenities.