The annual Repêchage Champagne Power Lunch will be held this year at the Repêchage Headquarters in Secaucus, NJ on Monday, December 4, 2017. Following the one day business-building event will be a 3-day Master Class from December 5-7, 2017, led by Repêchage CEO and Founder and Master Esthetician Lydia Sarfati.
Catered to spa business owners, staff, and industry members, this year's event will be a day of education and motivation, focusing on how to be the best in your business for 2018.  Network with other industry professionals and hear from leading members of the spa/salon industry, including:
Global Beauty Trends for 2018 with Lydia Sarfati, CEO & Founder of Repêchage
Lydia Sarfati is the Founder and CEO of Repêchage, the first company to bring seaweed-based skincare treatments and cosmetics to the U.S market. Ms. Sarfati is an international industry leader and the developer of the world-renowned Repêchage Four Layer Facial, what Cosmopolitan UK has called "the best facial of the century." Today, together with her husband David Sarfati, Co-Founder and COO, Sarfati oversees a 50,000 square foot manufacturing, research, development and training facility in Secaucus, NJ. All Repêchage professional products and treatments are made in the United States, and are sold in over 40 countries worldwide. She appears nationally and internationally at esthetic trade shows, and attends and conducts overseas conferences in Asia, Europe, the Middle East, Central America, and South Africa. She has produced 17 step-by-step instructional videos as well as published The Repêchage Professional Skin Care Methods and Protocols and The Lydia Sarfati Book of Skin Science, comprehensive works of skin conditions, skincare and body treatments, and medical esthetics including pre and post-operative care protocols.
RELATED: Experts Weigh In on Popular Skincare Trends
Decoding Social Media: The Big Ideas and Practices Driving Success with Gordon Miller, CEO (Chief Engagement Officer) Hairbrained
Gordon Miller is CEO of digital community hairbrained.me where he works to empower the professional community by way of inspiring content, engaging education and quality commerce. In real-time, you can find Gordon at beauty shows and brand events where he often teaches social and digital media best practices as well as moderates Influencer panels.
Why a No Cell Phone Policy is the Best Policy with Stacie Bowie, Owner of Bowie Salon and Spa
Stacie Bowie is a Master Stylist and co-founder of Bowie Salon and Spa in Seattle, Washington. With 30 years of experience and influence gained from her time in Miami, New York, Europe, and South Africa, Stacie Bowie provides clients with the highest standard of service in an unpretentious environment. Working with some of the best Hotels in the world to learn how to create an exceptional customer experience, Stacie Bowie and Bowie Salon and Spa has been voted Best Salon, Best Colorist in ELLE, Allure, Vogue, Sunset, and Seattle Magazine. "We have a culture of kindness, quality and we are here to serve our guests. This has helped us not only be successful but also fulfilled".
RELATED: Repêchage's Annual Conference Focuses on Turning Back the Clock and Perseverance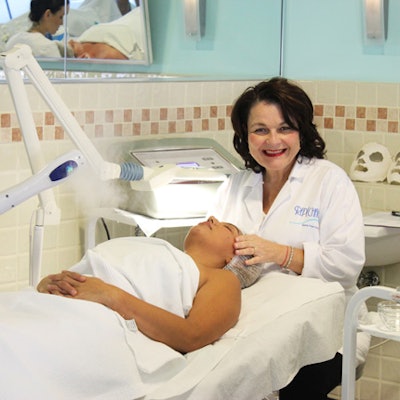 3- Day Master Class with Lydia Sarfati (December 5-7, 2017)
Including presentations, demonstrations, and a facial massage workshop
Join Master Esthetician and Repêchage Founder and CEO Lydia Sarfati as she shares how to turn your treatments into a five star experience, build a winning team and transform your business into a profit center. Seasoned estheticians can look and learn as Sarfati presents instruction in advanced skincare techniques and the latest news in product formulations and solutions.
Day 1: Master the Power of Touch and the Repêchage Four Layer Facial
Learn how to master the Lydia Sarfati Massage Methods for the face, body, hands and feet. Plus, once your clients experience the Signature Repêchage Four-Layer Facial for Dry Skin, they will be a fan for life. Here, the clients experience four layers of seaweed treatments with smoothing and softening results. Demonstrations will include training in two specific massages designed by Lydia Sarfati to provide the ultimate in relaxation. Leave this class with all the tools necessary to immediately begin offering this unique and exciting treatment in your salon!
Day 2: Master Extractions
Join Master Esthetician and Repêchage Founder and CEO Lydia Sarfati as she relaunches and reviews classic Repêchage treatments and product lines such as the Repêchage Hydra Medic, Hydra 4 and T-Zone. Proper and sanitary extraction is one of the most difficult and important techniques an esthetician must master. This day's agenda will be devoted to promoting extensive knowledge and mastery of treating problem skin.
Day 3: Master Wrinkles
Learn the latest treatments, techniques and ingredients to lessen the signs of aging, including the Repêchage Vita Cura 5 Phase Firming Facial, Repêchage BIOLIGHT Glyco Sea Peel, and the NEW! Repêchage BIOLIGHT Luminex Mask, the Repêchage FUSION Express Bar and Spa Masks.