To sift through the trends, we gathered industry pros' insight into some of the latest ingredients and formulations to glean information on why estheticians and clients alike should be taking note.
Bad Air Days
Air pollution isn't new, but our understanding of how it affects the skin is still developing. Scientific data on the subject has been accumulating steadily since 2010; the latest National Institutes of Health study published in May 2017 (Experimental Dermatology, Roxanna Koohgoli, et al) sums up the research to date, concluding that, "Air pollution has a detrimental impact on skin and can exacerbate skin disease."
Studies indicate that continued exposure to urban pollutants such as polycyclic aromatic hydrocarbons (PAHs) and ozone are associated with brown spots, wrinkles and rosacea.
RELATED: August 2017 Product Premiere
Aside from lobbying to demand better air quality, what's to be done? A lot, according to skincare experts.
Protect and fortify the skin. "We particularly like new ingredients that offer a shield against harmful air pollutants," says Darren Landis, founder of Hyalogic.
Look for cosmetics with silicone film-formers like silicone acrylate, resin wax and a trimethylsiloxysilicate/dimethicone blend. TRI-K Industries' PhytoVie Defense, a new entry in this category, is a botanical-based polymer made from tung wood and rapeseed oil. Formulations containing these new polyfilms are smooth, comfortable to wear and have been shown to keep harmful PAHs from penetrating the skin.
"Toxic pollutants can also create reactive oxygen species, or ROS [which can damage and inflame the skin]," adds Landis. "Look for formulations that include antioxidants like glutathione and vitamin C, which can minimize ROS." Glutathione is a potent anti-inflammatory tripeptide that exists naturally in the skin; it keeps free radicals in check, so low levels of glutathione are associated with oxidative damage, resulting in fine lines and pigmentation changes. One new ingredient by Active Concepts, AC CytoPure PF, is derived from microalgae and aims to protect skin from environmental damage by raising glutathione levels.
Cleanse often, but gently. Washing pollutants away is an obvious solution but we may need to change the way we cleanse, suggests John Kulesza, founder and president of Young Pharmaceuticals. "Out with harsh detergents like sodium lauryl sulfate and in with gentle, sugar-derived cleansers like decyl glucoside," he recommends. "Gentler cleansers remove only surface lipids and debris, not the skin's natural internal lipid barrier."
Preserving skin barrier function is essential to long-term health, points out microbiologist Neal Kitchen, PhD, chief operating officer of HydroPeptide. "We cannot cleanse in a way that strips important nutrients, probiotic components and protective skin layers," he cautions.
"The slightly acidic pH of normal skin (5.5) provides an 'acid mantle' important to barrier function that should be supported by a compatible cleanser," adds Charlene DeHaven, MD, clinical director of iS CLINICAL, who has written extensively on issues related to skin aging.
Treat the damage. Again, the trend is toward gentler products to correct oxidative damage like dark spots. One recent addition is a probiotic melanin regulator called Brightenyl. "It evens skin tone by using the body's own skin microbiota to reduce inflammation and prevent hyperpigmentation," says Kitchen. "Our stratum microbium is a symbiotic connection with millions of microbial organisms that communicate and regulate conditions on our skin. It's important to be mindful of this relationship with the products we use."
RELATED: Spa Pros Reveal the Benefits of Retinol
Hot Delivery System
For years the latest in skincare delivery has focused on microencapsulation and nanoparticles. These are still important, of course, but today's consumers are fixated on a macro delivery concept: masks.
Repêchage founder Lydia Sarfati named it the "biggest spa trend for 2017," and data from international research group DataMonitor listed face masks as one of the world's fastest-growing skincare categories.
Why? Masks are visual and they offer immediate results. They're a hit on YouTube and other social media because seeing is believing. New ingredients like carbonation, which foams away impurities,
and foil backing, which aids in the penetration of actives, are contributing to the phenomenon. "Masks are not only popular, they work—in
some cases better than some treatment creams and lotions," says Kulesza. "Masks, especially those made from special clays or polymers, create occlusion on the skin. This causes the stratum corneum to swell, creating channels that permit ingredients to penetrate deeper."
RELATED: Why Shea Butter is an Esthetician's Best Friend
Masks are migrating to other body parts too. Manufacturers are offering dozens of new mask-like products designed for lips, hands, feet— even breasts and buttocks! Savvy spa owners are creating extensive mask menus that involve every spa department in selling mask treatments, and are also recognizing the retail opportunity of these portable packets: Masks are a great way for clients to take the spa experience home and throw in a bag for a vacation or business trip.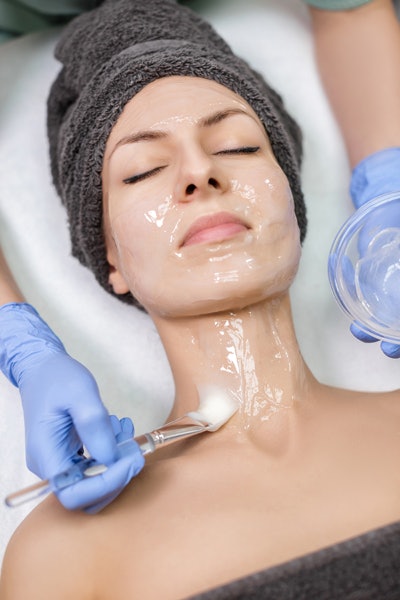 Staying Power
Hyaluronic acid (HA) and retinoids aren't new ingredients, but they are still very much in the news. "They're mainstays of professional skin care," says Kulesza. "HA keeps water in the skin, making it softer and smoother, and retinoids stimulate molecular changes to make the skin act and look younger."
In 2016, Differin Gel (adapalene, Galderma) became the first prescription strength retinoid to gain FDA approval for over the counter (OTC) use; it was the first OTC acne active approved since the 1980s. "Adapalene is a game changer in acne treatment," says Kulesza. "Combined with an inexpensive benzoyl peroxide, it offers better results for patients with persistent acne."
"HA occurs naturally throughout the body but is especially abundant in the skin," says Landis. "Young skin contains lots of HA, but the skin's ability to produce HA decreases with age, leaving it drier. We're currently working on products that can encourage the body's own production of HA." Meanwhile, HA is key to keeping skin looking young and healthy.
Versatility is another reason for increased interest: HA's molecular structure means it appears in short or long chains, and can even be freeze-dried. "Each of these has a different use in skin products," says Dr. HeHaven. "Some short-chain HAs may be absorbed through the skin and incorporated into its ground substance [a gel-like substance that surrounds cells and helps hydrate the skin]. Longer-chain HAs are too large to be absorbed, but are able to provide excellent surface hydration due to their intrinsic ability to bind water. Freeze-dried microspheres are included in skincare products for immediate wrinkle reduction. These tiny particles nestle into deep wrinkles where they absorb transepidermal water loss (TEWL) that would otherwise evaporate."
In addition to ingredients that stimulate the body's production of its own HA, "technologies that improve our delivery of HA into the skin will be a key component of future skin care," adds Kitchen.
Four to Follow
As vital as it is to keep track of developments in mainstay spa ingredients, it's also important to watch what's coming out of the lab too. Keep an eye out for these innovative actives on the latest spa product labels.
Birch juice, hydrating sap tapped straight from birch trees, is rich in proteins and antioxidants. It has been shown to assist the skin in maintaining a positive oil-moisture balance.
Blumilight from Ashland Specialty Ingredients offers a solution to the steady stream of blue radiation from computers and mobile devices. Although high- energy blue light exists in nature to regulate our wake-sleep cycle, scientists are finding that the almost constant blue exposure from electronics may negatively affect skin cells, generating oxidative stress that can lead to inflammation. Blumilight contains a peptidic fraction of a variety of cocoa that has been shown to reduce mitochondrial and cellular ROS induced by blue light.
Cholesterol, long vilified as the source of artery-clogging plaque, is now being touted by many as a crucial skincare ingredient. A component of the skin's natural lipid barrier, cholesterol is known to help keep skin flexible and supple. However, cholesterol production decreases as we age, leaving cells vulnerable to environmental damage. Topically adding this lipid helps improve the skin's barrier function and keep complexions looking younger.
Yuza, an Asian citrus fruit also known as yuzu or yuja, contains a high concentration of antioxidant vitamin C. Its extract has been shown to help brighten the skin and stimulate collagen production.
–by Linda W. Lewis
Cosmetic innovation is initially driven by need: Skincare specialists identify problems, and scientists take to their laboratories in search of remedies. But this process can be lengthy. Experts must first uncover the specific skin structures and processes that cause damage, find corrective ingredients and then formulate appealing solutions. Other market forces create demand as well: Look no further than the current resurgence in facial masks, fueled by social media and selfies. Over time, such skin solutions either prove their effectiveness and remain popular, or are dismissed as passing fads and fade from memory.