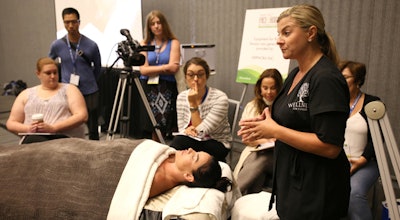 [Image: Courtesy of KM Design]
The 23rd annual event brought the best of spa treatments, products and equipment to San Jose.
Produced by Allured Business Media, the 2016 Face & Body Northern California Conference and Expo continued their run as a top spa professional event, welcoming an energetic crowd of over 4,800 spa professionals and industry suppliers. The affair has evolved beyond the traditional expo to become one of the industry's most comprehensive events for professional spa education, networking and innovation.
The exhibit is known for its diverse exhibitor base, and 2016 was no exception. This year's event featured more than more than 194 exhibiting companies. Ranging from international beauty leaders to indie trendsetters, exhibiting brands included the Associated Bodywork & Massage Professionals (ABMP), Casmara, DermaQuest, Eminence Organic Skincare, Expurtise, HydraFacial MD, Kaiderma, LightStim, Lira Clinical, Osmosis Pur Medical Skincare, PCA Skin, Revitalash and Satin Smooth.
"We are overwhelmed with the success of this year's Face & Body Northern California. There was a huge focus on education, along with such a diverse set of brands and industry professionals, which made it rewarding. It was exciting to see the most innovative trends in spa, skin care and wellness, as well as the new features of the Northern California expo hall – such as the nail and massage pavilions – come to life. We are already looking forward to next year's show," said Sandy Chapin, group show director.
Face & Body Northern California Show Highlights
Advanced Education Conference Program: The Advanced Education program provided robust, unbiased education that is critical to elevating the knowledge of the esthetician and spa owner. This year, with 178 registered attendees, education was broken up into a Wellness Track, a Business Track, a Science Track and hands on, interactive workshops. Kicking off the conference was the keynote "In My Chair: Makeup Chair Conversations," by award-winning actress and makeup artist Eva DeVirgilis.
New for 2016, Face & Body Northern California was proud to be approved by the National Coalition of Estheticians, Manufacturers, Distributors and Associations (NCEA) Commission on Accreditation to provide continuing education and complimentary onsite records verification. California estheticians once again had the chance to have one Continuing Education (CE) hour authorized for each one hour session in the Advanced Education Conference program.
Nail Pavilion: This year was the debut of the new Nail Pavilion on the show floor, with brands such as LeChat and Akzentz leading the lineup in introducing some of the newest in nail art and technology. Some of the most prevalent nail trends that attendees discovered include mirror nails, holographic polish, jewel tones, and the incorporation of bold, metallic accents.
Supplier Classes: Industry suppliers presented their specific products and techniques and conducted hands-on demonstrations and lectures in Supplier Classes. The Supplier Classes were included in the registration fee and proved to be a great way to gain valuable face-to-face time with respected industry suppliers.
Passport to Prizes: With the help of select exhibitors, the exhibition brought back its Passport to Prizes contest. Attendees who visited participating booths and got their Face & Body passports stamped were eligible to be entered as one of the three prize winners. Announced on the last day of the show, the three winners are:
Grand Prize ($500): Lisa Eddy, Owner of Lisa Eddy Skincare in San Francisco, California.
Second Prize ($250): Raquel Oppenborn, Cosmetology Esthetics Educator at Bold Beauty Academy in Billings, Montana.
Third Prize ($100): Jenna Longshore, Esthetician at Skin Perfection in Plumas Lake, California.
Next year's Face & Body Northern California will take place on August 26-28 and will be held at the McEnery Convention Center in San Jose, California.