youngsters
most often include gentle massages, brief facials, manicures and pedicures—and some spas are getting creative with extras.
RELATED: DAYSPA's 2019 Professionals Choice Awards – Vote Now!
Marzie Morris-Grammer, founder of J'Aime Kids Spa & Lounge in Charlotte, North Carolina, started her business to offer the all-natural services that her two daughters' sensitive skin could tolerate. The Face2 "Cute" facial (30 min./$15) consists of a gentle cleanse, natural kaolin clay mask and a hydrator. Because her clients are typically 6 to 7 years old, Morris-Grammer has to take their short attention spans into consideration. "We let the mask sit for just 15 minutes so they don't pick at it, and we perform a massage during that time," she says. Add-ons include nail services (which come with popcorn, cupcakes and bubbly drinks to keep kids entertained) and a temporary tattoo application.
The main benefit to offering kids' services is that it brings in business from parents, too, says Vivian Henein, spa director at The Spa at Beverly Wilshire, A Four Seasons Hotel in Beverly Hills, California. And, it's an investment for the future. "These are our guests of tomorrow. It's good for me and good for the industry," opines Henein. For that reason, the spa's treatment menu for children 12 to 17 is designed to make them feel like VIP guests, with services like The Princess Mini-Facial (20 min./$85) and The Rock Star Massage (20 min./$85), the latter of which tends to focus on the neck, shoulders and scalp—and requires gentle pressure for small bodies. In addition, these young guests are encouraged to bring their own music so they can "rock out" while getting pampered.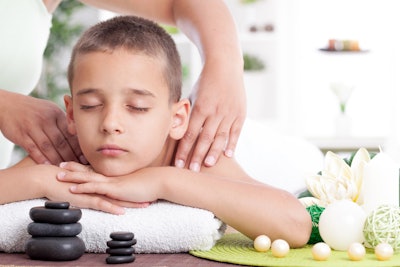 RELATED: How Spas Are Using the Power of Scent to Attract and Retain Clients
At Rubyz Day Spa in Frisco, Texas, owner and esthetician Ruby Rashid says she adores her tween clients (ages 8 to 13) because she loves teaching them about skin care. In addition to massage treatments and makeup guidance, the spa offers the Tween Facial (30 min./$50) as an "introduction to skin care" with a cleansing and exfoliation, followed by a moisturizing face massage. Rashid is careful to exfoliate very gently and she limits extractions to protect such young skin, instead focusing on the purifying deep clean. During the service, she also educates the youngsters about skincare routines in the hopes that they'll develop good habits—and continue coming back to the spa.
–by Laura Waldon
Across the country, spas are discovering that offering services to children is a fun and lucrative endeavor. Young girls in particular love to be pampered— especially if they can bring their friends along—and they're getting savvy about services and self-care at a much earlier age than ever before. Plus, there's their moms' business to capture, as an adult must typically accompany a minor in this context. In addition to boosting revenue, catering to kids builds a loyal client base that will continue to enjoy regular spa treatments as they grow up. Services for