From realtors popping a batch of cookies in the oven before an open house to casinos diffusing energizing smells throughout their spaces, savvy salespeople have long known that certain scents have the power to influence consumers. In fact, when the marketing team at Dunkin Donuts pumped the aroma of coffee into buses in Seoul, Korea, back in 2012, the company's coffee sales in those regions spiked by 29 percent.
Incorporating scent into a spa's marketing plan is newer and more complex, but it can be just as effective for enhancing the client experience. After all, a 2016 review of studies published in the journal Brain Sciences concluded that certain aromas can boost positive emotions, decrease bad moods and lower stress. Combine that with the fact that scent-diffusing technology is becoming increasingly sophisticated, and it stands to reason that "olfactory marketing" is a no-brainer for wellness businesses. "Spa managers have discovered that certain aromas in their facilities can have beneficial health effects for their customers, including enhancing their fitness and improving alertness or relaxation," notes Damalus Curry, president of Scentpression, a "business atmospheric agency" headquartered in The Bahamas. Although spas currently make up 15 percent of Scentpression's clientele, Curry expects that figure to grow to 40 percent over the next few years.
Similar companies, such as Aroma360 in Miami Beach and ScentAir in Charlotte, North Carolina, have also seen rising interest from spas. "You can have relaxing decor and music, but a lovely scent takes it to the next level," says Joanie Bowden, director of spa and recreation at Margaritaville Beach Resort in Hollywood, Florida, who worked with Aroma360 to create the spa's scent program a year ago. Explains Farah Abassi, Aroma360 founder and chief product officer: "People are inundated with other types of advertising and tend to tune it out, but scent bypasses the parts of the brain that control reasoning—so, it can evoke feelings without guests even realizing it." Here's how spas can use olfactory marketing to improve business and the client experience.
RELATED: Spa Pros on Adding Permanent Makeup Services to Your Spa Menu
Making Scents
As you may have guessed, creating a scent marketing plan involves more than sticking a lavender air freshener in the corner. You're not just selling services— you're selling a feeling, a mood and your spa's "story." So, is your business more Japanese minimalist and modern? Does it evoke gold-dipped Beverly Hills glamour? Or is it about invigorating mountain air in a clean, organic setting? Scent marketing companies take these considerations and more into account when developing an individualized agenda. "We dive into a spa's history, architecture, decor, geographic area and customer demographics before making suggestions," says Abassi. After a comprehensive consultation, clients select one of more than 90 blends—or, Abassi can design a signature scent.
Many clients do seek to customize the options. "We didn't want a classic citrus, lavender or eucalyptus—we wanted a water-inspired, contemporary aroma that was clean, airy and bright," says Rachel Knapp, executive director of spa and fitness at MGM National Harbor in Oxon Hill, Maryland. Working with ScentAir, the spa arrived at a signature blend of spicy orange, pear, apple blossom and ginger with an undertone of ylang-ylang. "Ours is a Tuscan orange because we didn't want clients to feel too energized, like they might with a straight citrus," explains Knapp. "We want them to have a sense of delight and connection when they come into the spa."
Believe it or not, certain scents can also be based on specific business goals. "There's one that prompts focus and decision-making, which you might want to drive business in a retail area," notes Abassi, adding that other aromas might inspire clients to linger, helping reinforce their connection to your brand, and some even promote a feeling of spaciousness so the spa seems bigger than it is. "It's really like a menu: You decide what your goals are, and we work with you to create a program that drives brand loyalty," says Abassi.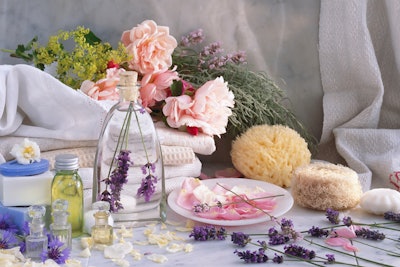 Putting It Out There
Companies use different types of devices to distribute selected scents. Larger spas might need to release fragrance mist via heating, venting and air conditioning (HVAC) systems, but smaller scent machines, as well as tabletop diffusers, can sometimes be a better choice for keeping certain rooms more individualized. Either way, advances in aroma delivery systems are beneficial to businesses for a variety of reasons.
RELATED: 7 Tips for Landing the Job From the Owner of Celebrity Skin Studio
For instance, both Aroma360 and Scentpression offer cold-air diffusion, which breaks down oils into a dry mist with the use of cold, filtered air released into HVAC ducts. This preserves the integrity of essential and fragrance oils, says Curry. "The systems release fragrance microparticles so small that they easily float in the air, which ensures an even distribution of scent throughout the space and reduces the amount of oil required, making it more economical," he adds. Portable diffusers, candles, room sprays and reed diffusers are all good choices for smaller spaces. Another option for treatment rooms: ScentAir's scent sticks, which are lightly fragranced and can be individualized according to client preferences, says Ed Burke, ScentAir vice president of customer strategy and communication. "It's a special type of paper with the fragrance whipped into it—not a stick in oil," he notes. "It evaporates out, which gives a more subtle experience. We love white tea and thyme scent sticks in treatment rooms; it's a smart solution for a small space like that."
Bringing It Home
Spas are also realizing the power of scent branding, which takes ambient scent marketing a step further by incorporating signature aromas into retail products. This not only serves as an added opportunity for sales, but can further strengthen a guest's connection to the business. "Our goal is to remind clients of our
spa every time they light a candle," says Bowden. In that sense, it may even be worth giving away a small promotional gift, such as a rollerball, room spray or sample-sized cream. But retail products can also boost revenue from individuals who haven't even received a spa service, adds Bowden. Margaritaville guests have to pass the spa en route to the fitness room, and they're often drawn in by the fragrance at the entrance and end up purchasing branded products.
Whether you're using aromatherapy throughout your spa, in products, or both, scent marketing comes down to creating a complete experience and identity. After all, as Abassi points out, once clients have been in a space with ambient scent, other spaces can seem empty or unfinished.
"In a competitive marketplace, it also differentiates you from the ones not doing it," she says.
–by Virginia Pelley